Free
Gifts
Free
Gifts
Hi-Flow 25m Retractable Hose Reel
REEL DEAL GIVEAWAY - SALE EXTENDED: Get 4 FREE gifts valued over $80, while stocks last
Own it now, pay later
REEL DEAL: Receive 4 FREE gifts valued at over $80 with any Retractable Reel for a limited time only!
Product Video
See it in action! Watch a video featuring this product to learn more.
REEL DEAL GIVEAWAY - SALE EXTENDED!

Purchase ANY Retractable Reel and you'll get 4 FREE additional gifts.

What are the 4 free gifts you'll receive ? You'll get:

1x Super Jet washer - Normally $39.90, yours FREE
1x Easy Turn Tap Adapter - Normally $18.90 yours FREE
1x Click-On Adapter Set - Normally $7.90 yours FREE
1x Classic Round Sprinkler - Normally $16.90 yours FREE

All valued at $83.60!

With free delivery thrown on top, this is an offer you simply can't miss out on!
Available while stocks last.
Now with Retractable Hose Reel Plugs included!
Difference between Hi-flow and standard reels
Most retractable reels (including Hoselink's standard range) use a 12mm internal hose diameter, whereas the Hi-flow model features a larger 14mm size. This equates to a higher water flow, providing better pressure to clean the car, drive the sprinkler or water hard-to-reach plants. Ultimately you get a better watering experience overall!
Solution for low water pressure
Watering with low water pressure takes longer because of the slower flow rate and shorter distance thrown by sprayers and sprinklers. Retractable reels (particularly longer models) are commonly known for having an impact on water pressure in comparison to a standard garden hose. The 25m Hi-flow Retractable Reel offers the best of both worlds by allowing for better water pressure with the convenience of a retractable reel.
If you've had enough of leaking, bursting hose fittings and unsightly hoses that tangle and kink, then Hoselink's Retractable Hose Reel will revolutionise the way you water. For those wanting to maintain or increase water pressure, the 25m Hi-flow Retractable Reel is the ideal way to enjoy watering your garden, every day.
How it works
The 25m Hi-flow Retractable Hose Reel is a wall-mounted hose storage unit with a high quality spring-loaded hose. The specially designed 'stop-anywhere' locking mechanism secures the hose at any length, eliminating excess hose to prevent kinks and tangles.
To use, you simply pull the hose out to the desired length and pause to lock the hose. All you have to do to lengthen the hose is walk it out further and stop again, wherever you want. Once you've finished watering, lightly tug the hose to engage the automatic rewind system and the integrated self-layering mechanism neatly coils the hose into the reel as you walk it back in.
This product features 14mm hose connectors (denoted by the green, instead of yellow nut) at both hose ends, which are compatible with all our standard 12mm fittings.
Inclusions
The 25m Hi-flow Retractable Hose Reel is a complete package that arrives fully equipped and includes:
Spring-loaded hose reel unit pre-fitted with 25m of high quality 14mm diameter hose
Full set of pre-fitted Hoselink no-burst connectors including Universal Tap Connector and Hose Connector with Flow Control so you can easily switch watering accessories
Premium 7-Function Spray Gun and Accessory Connector with Swivel
2m Leader Hose
Durable Wall Bracket and Installation Hardware
Retractable Hose Reel Plugs (to prevent wasps from nesting in screw holes)
Installation
Follow our step-by-step instruction manual or installation video to quickly and easily install the wall bracket onto a solid wall or post using the included hardware kit. Place the hose reel unit onto the bracket and attach the leader hose to the tap. The hose reel unit will swivel 180 degrees on the bracket, following your direction as you water.
Warranty
If you're new to Hoselink, you'll find our products are carefully designed to be durable, attractive and most of importantly, easy to use. Hoselink Retractable Reels are covered by a 2 year warranty and a 30 day money back guarantee.
See more Retractable Hose Reels.
Easy to Use
Effortlessly keep your hose at any length with the specially designed 'stop-anywhere' locking mechanism. To put your hose away, simply give it a gentle tug and the automatic rewind feature and self-layering mechanism retracts and coils your hose saving you time and energy.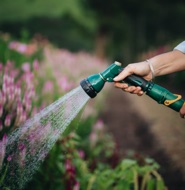 Flexible Watering
Thanks to the cleverly designed mounting bracket, the hose reel pivots 180° and follows your direction around the garden as you water. When you've finished, the reel can be stored flat against the wall keeping your garden neat and tidy.
Ready to Go
The Hose Reel comes fully equipped and pre-fitted with Hoselink hose fittings and Metal 7 Function Spray Gun. Simply mount the bracket to the wall using the supplied stainless steel screws and you're ready to start enjoying hassle-free watering!
Built Tough
With UV stabilised casing, stainless-steel hardware, premium quality hose, and no-burst hose fittings, the 25m Hose Reel is ready for whatever Australia's tough environmental conditions throws at it. The durable case protects the hose to remain flexible in the cooler months and safe from the heat of the harsh summer sun.
Comfortable to Carry
Integrated carry handles make it easy to lift the Hose Reel from its mounting bracket to transport it wherever you need. With the optional purchase of an Additional Bracket you can use and store your Hose Reel in multiple locations. The Hose Reel can also be padlocked (sold separately) to the bracket to thwart would-be thieves.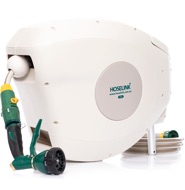 Complete Package
The Hose Reel arrives at your door with everything you need including a complete set of Hoselink hose fittings, Metal 7 Function Spray Gun, 25m of quality hose, a 2m leader hose and mounting bracket. Everything is set up and ready to go.
Product Specifications
Model Name
Hi-flow 25m Retractable Hose Reel
Model Number
3425
Material
Reel/bracket (polypropylene), hose (PVC), screws/pins (stainless steel), plugs (plastic)
Colour
Off-White
Hose Reel Dimensions
H49cm x W27cm x D61cm
Mounted Hose Reel Dimensions

D71cm (when facing out)
D27cm (when pushed flat against wall)

Universal Bracket Dimensions
H20cm x W10.5cm x D16cm
Weight
13.55kg
Fitting Size
14mm fittings specifially designed for use with this hose reel only.
Compatibility
The 14mm connectors can be used with any standard Hoselink 12mm fittings and watering accessories.
Maximum Pressure
150psi
Maximum Water Temperature
40 degrees
UV Resistant
Yes
Wall Mounted
Yes
Leader Hose
2m
Assembly Required
Yes (you will need a drill)
Use with Water Tanks
Yes
What's Included
Spring-loaded Retractable Hose Reel
25m of Quality Hose
2m Leader Hose
Set of Hoselink fittings including 14mm Hose Connector, 14mm Hose Connector with Flow Control (both pre-fitted), Universal Tap Connector, Accessory Connector with Swivel, Premium 7 Function Spray Gun, Spare O-Rings (x3)
Mounting bracket
Stainless steel screws (x4)
Washers (x4)
Masonry plugs (x4)
Instruction Manual
Warranty
| | |
| --- | --- |
| Retractable Hose Reel Unit | 2 years |
| Tap to Hose Connector Set | 3 years |
| Hose Connector with Flow Control | 12 months |
| Accessory Connector with Swivel | 12 months |
| Premium 7 Function Spray Gun | 12 months |
Q. Can I put my own hose in this hose reel?
A. No, you cannot put your own hose into the reel nor replace the hose in the reel. The retraction mechanism operates via a spring, and is fitted at the factory.
Q. Which hose from your range comes in the hose reel?
A. This product uses a specifically designed hose for use in the retractable hose reel unit.
Q. Does the hose in the hose reel kink?
A. This hose has been specifically designed for use in an auto rewind hose reel unit and must be soft and pliable so that it retracts easily back into the unit. Although this hose is not designed for kink-resistance specifically, using a hose reel greatly reduces the chance of a kink occuring. This is due to only using the correct length of hose for the task at hand so there is no extra hose for a tangle or kink to occur. In addition, the retraction mechanism on the reel ensures that the hose is always reeled back in a straight line, so the hose does not get twisted (a common cause of kinks).

Q. My tap is 3m away from where I need to put the hose reel. What can I do?
A. You can add an additional length of hose to the leader hose in order to reach the water supply. To do this, you will need a suitable length of hose with Hoselink connectors on either end. If you have a suitable hose length for this purpose, we recommend purchasing a Hose Joiner Set (2410). Alternatively, we sell Leader Hose Extensions in 1.5m and 5m lengths pre-fitted with connectors, for your convenience.

Q. Does the hose reel have to be mounted?
A. Yes, because it uses tension for retraction and extension, the hose reel unit must be mounted for correct operation to a solid wall or post.

Q. If I would like to mount the reel onto a post, how deep should the post be into the ground?
A. The post depth required depends on a number of factors, including how hard packed the soil is and how much concrete is used. We suggest 0.5m as a safe depth for the post before pouring the concrete. In addition, we would recommend that the hole be 30cm square to provide enough concrete to keep the hose reel firmly in place.

Q. Can I use the Retractable Hose Reels with hot water?
A. No, they are not recommended for use with hot water.

Q. Why would I choose this one over the standard models?
A. All auto rewind hose reels reduce water pressure due to their design. With the larger diameter hose in the Hi-Flow model, we've calculated a 25% better water flow than our standard models. This makes for easier and quicker watering. For people who experience low water pressure already, they should definitely choose this model over a standard model to minimise loss of pressure.
Q. Can I leave the tap turned on at all times?
A. We would recommend turning the water off at the tap at the end of each watering session. The increased pressure from the water may cause unnecessary wear to the internal mechanism of the hose reel, potentially shortening the life of the product.
Reviews
Customer Reviews
Write a Review
Ask a Question
Filter Reviews:
hose
Hoselink
products
garden
reel
quality
hoses
hose reel
pressure
02/04/2020
Barry M.
Australia
I recommend this product
Hi-flow 25mm retractable Jose reel
Have not had the opportunity to install the unit yet . Will probably be able to answer after Easter However quite happy with the service to date
28/03/2020
Shannon F.
Australia
I recommend this product
Awesome hose just not happy with sprinkler
Love the product but the sprinkle I bought lost a screw. Both came but could only one I've brought two 25m retractable Hoselink's and love them but just this bloody sprinkler has let me down
26/03/2020
Deb E.
Australia
I recommend this product
We love Hoselink products!
This is such a fantastic hose, reel and gun. Thank you Hoselink.
19/03/2020
Katrina S.
Australia
I recommend this product
New hose
We have a new house made of hebel and we don't know how to attach to the house
18/03/2020
John E.
Australia
I recommend this product
Hi FLow 25m Retractable Hose Reel
As with all previous items purchased this hose reel lives up to the expectations I now have for Hoselink products. It is now easier to instal due to the supplied template for drilling into the brickwork . The hose and reel are for connection to a rainwater tank and powered by a pump. Everything works a treat, plenty of pressure that is assisted by the larger diameter hose and fittings. Great work and customer service to all at Hoselink John
17/03/2020
Nellma P.
Australia
I recommend this product
Happy
Excellent. Ordered Monday Delivered to regional Victoria Wednesday. Staff were very helpful. Now installed and loving it. No more hose laying around on the lawn Thank you
12/03/2020
DAVID M.
Australia
I recommend this product
Replacement Hose Reel
Fantastic customer service. Hose reel replaced even though it was out of warranty.
12/03/2020
Joe F.
Australia
I recommend this product
Hi-Flow 25m Retractable Hose Reel
excellent product, probably worth including one adapter so that you can use your existing sprays and nozzles as well
09/03/2020
Dr J.
Australia
I recommend this product
Hi-Flow 25m Retractable Hose Reel
Good, excellent quality, but would have liked the options of : a default longer feed in hose (we needed 5m not 2m) and a shorter length hose (20m would have been long enough, the extra 5m contributes nothing apart from further resistance to a low pressure circuit).
25/02/2020
Robert A.
Australia
I recommend this product
Hi-flow 25m retractable hose reel
Excellent, very high quality product, a bit more expensive than others but worth the extra money in my opinion. Very happy with this product.