30m Retractable Hose Reel
Ideal for larger yards
Own it now, pay later
Product Video
See it in action! Watch a video featuring this product to learn more.
Now with Retractable Hose Reel Plugs included!

Are you fed up with leaking, bursting hose fittings and unsightly hoses that tangle and kink?  Then get set because Hoselink's Retractable Hose Reel will revolutionise the way you water!
If you're new to Hoselink, you'll find our products are carefully designed to be durable, attractive and most of importantly, easy to use.  For larger sized gardens, the 30m Retractable Reel is the ideal way to enjoy watering your garden, every day.
How it works
The 30m Retractable Hose Reel is a wall-mounted hose storage unit with a high quality spring-loaded hose.  The specially designed 'stop-anywhere' locking mechanism secures the hose at any length, eliminating excess hose to prevent kinks and tangles.
To use, you simply pull the hose out to the desired length and pause to lock the hose.  All you have to do to lengthen the hose is walk it out further and stop again, wherever you want.  Once you've finished watering, lightly tug the hose to engage the automatic rewind system and the integrated self-layering mechanism neatly coils the hose into the reel as you walk it back in.
Inclusions
The 30m Retractable Hose Reel is a complete package that arrives fully equipped and includes:
Spring-loaded hose reel unit pre-fitted with 30m of high quality hose
Full set of pre-fitted Hoselink no-burst connectors including Universal Tap Connector and Hose Connector with Flow Control so you can easily switch watering accessories
Premium 7-Function Spray Gun and Accessory Connector with Swivel
2m Leader Hose
Durable Wall Bracket and Installation Hardware
Retractable Hose Reel Plugs (to prevent wasps from nesting in screw holes)
Installation
Follow our step-by-step instruction manual or installation video to quickly and easily install the wall bracket onto a solid wall or post using the included hardware kit.  Place the hose reel unit onto the bracket and attach the leader hose to the tap.  The hose reel unit will swivel 180 degrees on the bracket, following your direction as you water.
Warranty
Hoselink Retractable Hose Reels are covered by a 2 year warranty and a 30 day money back guarantee.
See more Retractable Hose Reels.
Easy to Use
Effortlessly keep your hose at any length with the specially designed 'stop-anywhere' locking mechanism. To put your hose away, simply give it a gentle tug and the automatic rewind feature and self-layering mechanism retracts and coils your hose saving you time and energy.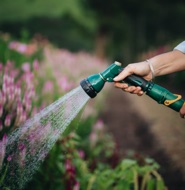 Flexible Watering
Thanks to the cleverly designed mounting bracket, the hose reel pivots 180° and follows your direction around the garden as you water. When you've finished, the reel can be stored flat against the wall keeping your garden neat and tidy.
Ready to Go
The Hose Reel comes fully equipped and pre-fitted with Hoselink hose fittings and Metal 7 Function Spray Gun. Simply mount the bracket to the wall using the supplied stainless steel screws and you're ready to start enjoying hassle-free watering!
Built Tough
With UV stabilised casing, stainless-steel hardware, premium quality hose, and no-burst hose fittings, the 30m Hose Reel is ready for whatever Australia's tough environmental conditions throws at it. The durable case protects the hose to remain flexible in the cooler months and safe from the heat of the harsh summer sun.
Comfortable to Carry
Integrated carry handles make it easy to lift the Hose Reel from its mounting bracket to transport it wherever you need. With the optional purchase of an Additional Bracket you can use and store your Hose Reel in multiple locations. The Hose Reel can also be padlocked (sold separately) to the bracket to thwart would-be thieves.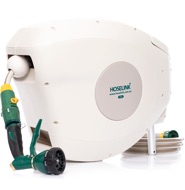 Complete Package
The Hose Reel arrives at your door with everything you need including a complete set of Hoselink hose fittings, Metal 7 Function Spray Gun, 30m of quality hose, a 2m leader hose and mounting bracket. Everything is set up and ready to go.
Product Specifications
Model Name
30m Retractable Hose Reel
Model Number
3330
Material
Reel/bracket (polypropylene), hose (PVC), screws/pins (stainless steel), plugs (plastic)
Colour
Off-White
Hose Reel Dimensions
H49cm x W27cm x D61cm
Mounted Hose Reel Dimensions
D71cm (when facing out)
D27cm (when pushed flat against wall)
Universal Bracket Dimensions
H20cm x W10.5cm x D16cm
Weight
13.95kg
Fitting Size
12mm
Maximum Pressure
150psi
Maximum Water Temperature
40 degrees
UV Resistant
Yes
Wall Mounted
Yes
Leader Hose
2m
Assembly Required
Yes (you will need a drill)
Use with Water Tanks
Yes*
* There is some loss of pressure when using a Retractable Hose Reel (particularly the 20m, 25m and 30m models) with water supplied from a tank. Used in conjunction with a pump, pressure may be sufficient for normal use, however you should take this into consideration before purchasing. If pressure is very low, a regular hose may be more suitable.
What's Included
Spring-loaded Retractable Hose Reel
30m of Quality Hose
2m Leader Hose
Set of Hoselink fittings including Hose Connector, Hose Connector with Flow Control (both pre-fitted), Universal Tap Connector, Accessory Connector with Swivel, Premium 7 Function Spray Gun, Spare O-Rings (x3)
Mounting bracket
Stainless steel screws (x4)
Washers (x4)
Masonry plugs (x4)
Instruction Manual
Warranty
| | |
| --- | --- |
| Retractable Hose Reel Unit | 2 years |
| Tap to Hose Connector Set | 3 years |
| Hose Connector with Flow Control | 12 months |
| Accessory Connector with Swivel | 12 months |
| Premium 7 Function Spray Gun | 12 months |
Q. Can I put my own hose in this hose reel?
A. No, you cannot put your own hose into the reel nor replace the hose in the reel. The retraction mechanism operates via a spring, and is fitted at the factory.
Q. Which hose from your range comes in the hose reel?
A. This product uses a specifically designed hose for use in the retractable hose reel unit.
Q. Does the hose in the hose reel kink?
A. This hose has been specifically designed for use in an auto rewind hose reel unit and must be soft and pliable so that it retracts easily back into the unit. Although this hose is not designed for kink-resistance specifically, using a hose reel greatly reduces the chance of a kink occuring. This is due to only using the correct length of hose for the task at hand so there is no extra hose for a tangle or kink to occur. In addition, the retraction mechanism on the reel ensures that the hose is always reeled back in a straight line, so the hose does not get twisted (a common cause of kinks).

Q. My tap is 3m away from where I need to put the hose reel. What can I do?
A. You can add an additional length of hose to the leader hose in order to reach the water supply. To do this, you will need a suitable length of hose with Hoselink connectors on either end. If you have a suitable hose length for this purpose, we recommend purchasing a Hose Joiner Set (2410). Alternatively, we sell Leader Hose Extensions in 1.5m and 5m lengths pre-fitted with connectors, for your convenience.

Q. Does the hose reel have to be mounted?
A. Yes, because it uses tension for retraction and extension, the hose reel unit must be mounted for correct operation to a solid wall or post.

Q. If I would like to mount the reel onto a post, how deep should the post be into the ground?
A. The post depth required depends on a number of factors, including how hard packed the soil is and how much concrete is used. We suggest 0.5m as a safe depth for the post before pouring the concrete. In addition, we would recommend that the hole be 30cm square to provide enough concrete to keep the hose reel firmly in place.

Q. Can I use the Retractable Hose Reels with hot water?
A. No, they are not recommended for use with hot water.
Q. Can I leave the tap turned on at all times?
A. We would recommend turning the water off at the tap at the end of each watering session. The increased pressure from the water may cause unnecessary wear to the internal mechanism of the hose reel, potentially shortening the life of the product.
Reviews
Customer Reviews
Filter Reviews:
hose
Hoselink
products
garden
reel
quality
home
delivery
hoses
hose reel
12/12/2019
Peter T.
Australia
I recommend this product
Top quality product and very good service
No hassles whatsoever ' will probably be buying again '
12/12/2019
doug w.
Australia
I recommend this product
30m retractable hose reel
This reel and hose set is reel good. Allows me to water all my lawns and garden beds with only one hose. It's so quick and effortless to reel the hose in when I finish the.job. With it's ease of use and good looks I'm certainly glad I purchased it.
11/12/2019
Les S.
Australia
I recommend this product
Retractable Hose
We purchased a retractable hose a few years ago and couldn't be happier with it Our grandson has just moved into his first home so we purchased a 30mtr one for him for Christmas We hope he loves it as much as we do ours.
11/12/2019
John G.
Australia
I recommend this product
The best money can buy!
I was a bit shy to spend over $200 for a garden hose, but now after using it for a month I'm so glad I did. It is quality, in both operation and appearance. Loved it so much I bought my sister the 15meter hose, we are both dreading our water bill, we both seem to be out hosing a lot more than usual ! Our lawns and gardens say thank you Hoselink.
11/12/2019
Kevin G.
Australia
I recommend this product
30m Retractable hose
Very nice, much better quality than the previous one I had. Looking forward to receiving my cover for added protection.
11/12/2019
Kerry L.
Australia
I recommend this product
Christmas shopping done!
Love this product so much that I brought several family members one for Christmas. Thanks Hoselonk!
11/12/2019
leonie w.
Australia
I recommend this product
30m Retractable hose reel
I purchased one 3 years ago for my grandson. His mother wanted one for Xmas this year. She hasn't used it yet but I'm sure it will be just as good as the first one I purchased.
11/12/2019
Jeanette D.
Australia
I recommend this product
Purchase
Excellent quality and speedy delivery. We are very impressed with the product and quality.
11/12/2019
Rachel K.
Australia
I recommend this product
Hoselink 30m
Surprisingly fast delivery time, easy online order/payment process. Fantastic product for ease of use and quality
11/12/2019
Ray M.
Australia
I recommend this product
30 meter hose reel
Delivery was prompt, product quality finish is good and seems to operate very well. Spray nozzle when on shower is not even however and can dig up new dirt.
Real reviews from real customers from Australia's most trusted review site
See All ProductReview Reviews