Product Video
See it in action! Watch a video featuring this product to learn more.
Keep all your long-handled tools organised with this easy to use wall bracket.
The wall bracket includes 5 quick grip tool holders. To engage the holder, push the tool handle in and up to secure. Then releasing the tool is as simple as pulling it out towards you.
No more messy piles of brooms, rakes, spades and garden forks toppling over when you try to reach one. With the Quick-grip Tool Organiser they're neatly stored for whenever you need them.
This product includes:
Wall bracket with 5 tool holders
3 screws and plugs
Plastic clips that secure the 5 tool holders
The product may not be suitable for holding all tools, particularly heavy tools such as mattocks.
See more Storage.
Product Specifications
| | |
| --- | --- |
| Model Name | Quick-grip Tool Organiser |
| Model Number | 6560 |
| Material | Plastic |
| Tool Holders | 5 |
| Stainless Steel Screws | 3 |
| Colour | Green, black |
| Dimensions | L 600mm x W 80mm x D 55mm |
| Assembly Required | Yes |
| Warranty | 12 months |
What's Included
Wall Mount Bar (x1)
Tool Holders (x5)
Stainless Steel Screws (x3)
Plugs (x3)
Plastic Clips (x10)
Q. Can I move the tool holders on the bracket once it has been set up?
A. No, once the tool holders are in place, they cannot be removed unless the whole bracket is taken off the wall.
Reviews
Customer Reviews
Write a Review
Ask a Question
Filter Reviews:
tools
organiser
garden tools
Test
lugs
variety
construction
everyone
tape
look
25/09/2020
Diane C.
Australia
I recommend this product
broken lug
the tool organiser came with all fittings needed to install but one of the plastic lugs broke while installing it seemed to be brittle. Hoselink did replace the tool organiser with a new one. The organiser does hold a variety of brooms mops and garden tools. I hope this product survives the test of time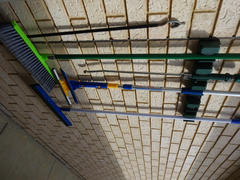 02/02/2020
Christina T.
Australia
I recommend this product
Great product AGAIN from Hoselink
Fantastic. Easy to install. Sturdy construction yet light weight and unobtrusive in the garage.
02/12/2019
kim m.
Australia
adjustment
Easy to install, perfect for tight spaces, but does not hold some of my garden tools (cyclone spade and rake ) as the handles slip down over time ,have placed some electrical tape on rubber clip to secure handles ,so far so good.
06/09/2019
Ann P.
Australia
Quick -Grip Tool Organiser
Great idea for organising your tools. It was easy to put together after reading instructions with a fine result.
27/08/2019
Betty B.
Australia
Hello everyone, I haven't used
Hello everyone, I haven't used the Quick-grip organiser yet, it is a Fathers Day gift for my husband. I'm sure it will make our garden shed look heaps better, tools not falling on you when looking for a certain tool. Regards Betty Bashara
Satisfaction guaranteed.
A difficult type of product to source online, so I was in trepidation when I ordered two of these. There was no need for the trepidation as they were so easy to assemble and place on our brick outside wall, and even easier to use. Now all my brooms, rakes, mops and pooper scoopers are stored neatly where I can find them, use them, and store them efficiently once again. Very glad I bought two of these!,,
Not the best
Bit too flimsy for heavy tools such as a shovel, which is what i wanted it for. The shovel fell out of the holder and one of the screws came out with it.
Tidy rack
Provides compact and neat storage for tall garden implements.
Handy little gadget
What a handy little thing you are! I have my gardening tools all hanging together now without them falling off or temporarily 'lost' somewhere in the garden. Happy that i spent a little extra when i got the hose....just what i needed. thank you.
Tool Organiser
Simple to use, versatile installation It just works!