Product Video
See it in action! Watch a video featuring this product to learn more.
The Retractable Hose Reel Mounting Post is an optional extra mounting solution designed to work with Hoselink's Retractable Reel.
The powder-coated metal post can be located anywhere in the garden and is ideal if you want a Retractable Reel but don't have a wall on which to mount the bracket.  Please note that unlike the standard wall bracket, the reel cannot be locked on to the Hose Reel Post with a padlock.

There is a hole on top of the post to hold the hose reel pin in place, allowing the reel to swivel 360° and follow you as you move around the garden.
This product is suitable for use with all Hoselink Retractable Hose Reel sizes.
Installation Advice
The post must be secured in the ground to take the weight of the reel, which can be accomplished with concrete (not supplied). The total post length is 800mm long and we recommend setting it in 250mm of concrete.
We recommend digging a hole 350mm deep and 250mm wide. Fill with gravel for the first 100mm before setting the Mounting Post on top and filling with concrete, ensuring a concrete depth of 250mm up the post.
For the complete installation guide, please watch our video here.
What's Included

1x Retractable Hose Reel Mounting Post. Hose Reels are sold separately. Our reels are pre-boxed with a Wall Bracket and the package cannot be altered.
You Will Also Need
Cement and gravel from your local hardware store.
See more For Hose Reels.
Product Specifications
| | |
| --- | --- |
| Model Name | Hose Reel Post |
| Model Number | 3118 |
| Material | Powder coated aluminium |
| Colour | Warm grey |
| Length | 800mm (set 300mm of length into ground) |
| Size | H800mm x W40mm x D40mm |
| Corrosion Resistant | Yes |
| Assembly Required | Yes - must be set in concrete in the ground |
| Individual Item | Yes |
| Warranty | 1 year |
Reviews
Customer Reviews
Write a Review
Ask a Question
Filter Reviews:
hose
hose reel
wall
products
front
garden
lock
solution
elsewhere
backyard
22/10/2020
John H.
Australia
I recommend this product
Mounting Post & Reel
Unable to fault your products and have nothing to offer except to say that the video for installing the post was extremely helpful. J. G. Henry
13/10/2020
Peter M.
Australia
I recommend this product
My latest addition!
I have been using Hoselink products for over 12 years and my new 25m hose reel has not disappointed.It was easy to install on the provided brackets and or rewinds faultlessly.
01/09/2020
LESLEY C.
Australia
I recommend this product
Retractable Hose Reel Mounting Post
My husband felt that the mounting post by itself was not strong enough to support either the 20 or 30 metre reel (we bought 3x30 metre reels and 2x20 metre reels), so he purchased a length of 30x30 galvanised steel post and pounded it 1.3 metres into the ground. He then used the mounting post as a sleeve into the concrete, so it supports the reel at a height that we could use it well. We love the reels and have all but one mounted that way. The other is on a wall. If it were longer, it would be stronger, but then it would be difficult to send by post.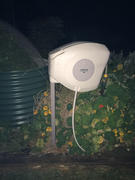 04/07/2020
stuart v.
Australia
I recommend this product
hose reel post
fantastic,a must have in the garden
14/05/2020
Tim S.
Australia
I recommend this product
Mounting pole - needs improvement to be considered a product worthy of the hoselink name
The pole does its job but if you are supposed to mount the standard bracket at 850mm why is the pole only 850mm long? I think the pole should be 1200mm. digging a hole and concreting is straight forward but perhaps a 100mm mounting collar for the pole would help for long term stability and one-person ********. My hole was a little large as used spade rather than post hole digger. The pole is adequate but not up to the standard of the hose reel it supports.
Hi Tim, thank you for taking the time to leave us a review. Our product team have been testing this product for a number of years which no problems at all regarding size or weight of the hose reel overtime. Therefore, we are sure yours will stand the test of time. Appreciate your suggestion regarding the mounting collar, we will pass your feedback on to our product team for review. Kind regards, The Hoselink Team
02/02/2020
Raymond W.
Australia
I recommend this product
Hose mounting post
Very good product and easy to install does the job perfectly
19/01/2020
Graham A.
Australia
I recommend this product
Retractable Hose Reel Mounting Post
The post allows for an ideal working height for use of the hose. Good installation instructions made the job easy and the post has remained perfectly stable. A very good product option to enable perfect positioning of the hose reel.
08/01/2020
John H.
Australia
Handy post, needs lock option
Great option, would be nice to have a locking option included I had to drill a hole in mine and buy a lock elsewhere. The reels are already setup for a lock when mounted traditionally to a solid structure.
31/12/2019
Rajah S.
Australia
30 metre retractable hose reel
I am pleased with the product. The metal shower handle is good. installing is is very easy. overall I am pleased with the product.
22/12/2019
Walter P.
Australia
Retractable hose mounting post
Easy, all concreted in and been using it ,very good, saved me lots of time and the hose is where I need it