It has been an exciting 2019 for Hoselink with the brand celebrating 20 years of business as well as success with many new product ranges. The beginning of the year saw the successful launch of our solar lights range with fan-favourites including the Warm and Cool Fairy Party Lights, perfect for creating that festive outdoor feel. We are excited to keep expanding this range with our on-trend, newly released Warm White Solar Party Bulb String Lights, which bring a picture-perfect golden glow to any outdoor space. The Hoselink Solar Lighting range has the intention to beautify and illuminate as well as minimise the carbon footprint in our backyards.
The Hoselink fertiliser collection has also been a hit. The Australian-made solutions are the ideal products to get your lawn looking lush and your flowers standing tall and bright. We even have an Organic Soil Wetter Concentrate perfect for indoor and outdoor plants, especially during the dry summer season, perfect for water saving when water levels become low.
Hoselink is also very excited to launch the Small Space Gardening range, which focuses on bringing nature into any type of living space from indoor planting and balconies to patios and rooftops. This range features the 10m Compact Portable Hose Reel; the ultimate small space watering solution. The compact design means you can easily store the unit away without taking up too much space whilst its light weight means you can transport it with ease anywhere you need.
With such a diverse range of products, this year it will be difficult to pick the perfect Christmas gift for that special someone. You can't go past our signature Retractable Hose Reel collection with a variety of hose lengths to choose from and no-burst fittings to make watering a breeze. Or what about the Hoselink Car Cleaning range featuring Hoselink's innovative Waterless Wash & Wax perfect for minimising water usage to gently wipe away grime and reveal shine. The staff at Hoselink Headquarters and the Hoselink ambassadors have revealed their top products for gifting this Christmas season.
Hoselink Ambassador Product Picks
Natasha Dickins
DIY Specialist @littleredindustries
'On most summer evenings, my lovely hubby fires up the barbecue to cook dinner. He sweats it out but says it's worth it to be taking the heat out of the kitchen and on to the veranda where he enjoys being an al fresco chef. This Christmas I'm going to give him the Total Misting Package (Kit & Timer) so he can set the timer to cool down the space before he even puts the barbie on, teamed with Warm White Party Bulb String Lights 25-Bulb Starter Set to finish off the space he works so hard in. I'll even install them for him!'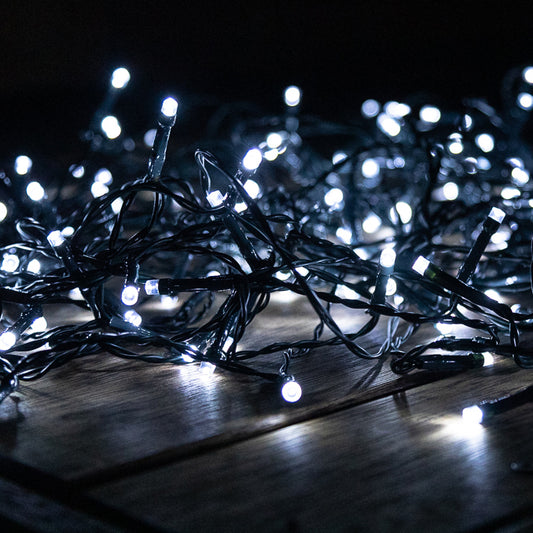 Carol Cunningham
Volunteer Community Gardener and Horticulture Student @gardentogut
'I will be buying a 30m Retractable Hose Reel with the trigger nozzle. What's not to love about it? I will buy one for my sister and dad who loves being in the garden, misting seedlings, watering the garlic and corn, filling up the dog's bowls at the end of the day with a glass of wine. Perfection!'
Holly Noakes
Urban Permaculture Gardener @sustainable_holly
'It is so hard to choose which Hoselink product to buy for Christmas. I would have to choose the Solar Party Bulb String Lights for my mum. I will be buying them because she loves entertaining and having dinner parties in her garden. These lights would be a magic edition for summer nights.'
Peter Vouthas
Urban Edible Gardener @insta.greener
'For Christmas, I'm buying my father the 30m Retractable Hose Reel and installing it when he is not home as a surprise. He currently has a conventional set-up and is forever battling with leaks, tangles and bursting connections. I want him to experience the Hoselink difference and make life in the garden easier for him. Mum will be happy too, no more leaving the old hose lying around the lawn! Merry Christmas and happy harvesting!'
Melissa Adams
Subtropics Gardener @growapear.gardens
'This Christmas I am going to buy the Auto-fill Pet Water Bowl. We have six chickens, three dogs and A LOT of wild ducks. Between all of them we constantly have to refill their water bowls. This product will ensure I get those extra moments in the garden without having to worry about the animals getting dehydrated in the scorching summer heat.'
Hoselink Staff Product Picks
Josh
Hoselink Marketing Assistant
'I will buy my mum a Hoselink Retractable Reel for Christmas because she has an old reel bought years ago from Bunnings and I think it is time for an upgrade. Plus, she has been nagging me! I will also get her the Hoselink Warm White Solar Festoon Lights because she loves to entertain outdoors in summer. They will pretty up the balcony and garden.'
Nathan
Hoselink Website Development
'I am buying solar lights for my Dad so he can do up his outdoor area ready for summer. I will be buying the Hoselink Warm White Solar Party Bulb String Lights.'
Sue
Hoselink Customer Service Supervisor
'I will be buying the Auto-fill Pet Water Bowl with the 5m Leader Hose for my two dogs Poppy and Missy-Moo.'
Natasha
Hoselink Product Development
'For my friend and neighbour for Christmas I will be buying the 15m Misting Kit with Directional Heads to keep us cool in the Australian summer heat whilst we relax on her balcony.'
Subodh
Hoselink Website Development
'I am thinking about buying the 10m Compact Portable Hose Reel for my wife because she loves gardening and we live in an apartment, so this will make it much easier to water our plants.'
Steve
Hoselink Warehouse Manager
'I will be buying the Hoselink Garden Drill Auger in both sizes for my brother-in-law. He loves gardening but finds it hard to dig holes for his plants because of his arthritis so this will make it easier for him to get the gardening work done. He is going to be so happy with these!'