Warm White Solar Party Bulb String Lights - 25 Bulb Starter Set
Efficient solar lights for any occasion!
Recommended Extras
Warm White Solar Party Bulb String Lights - 25 Bulb Extension (+$43.90)
Warm White Solar Party Bulb String Lights - 25 Bulb Extension
Transform your outdoor space with Hoselink's Warm White Solar Party Bulb String Lights! These gorgeous lights are perfect for creating a pretty effect for parties, Christmas, or to liven up your outdoor entertaining area. These high quality lights feature warm white glass bulbs for maximum effect.  This product consists of a black 8m string with 25 evenly spaced bulbs.

Lighting Modes
To change between the four lighting modes, simply press the mode button on the back of the solar panel. Lighting modes shown below;
① Constant light
② Slow flash
③ Quick flash
④ Pulsating light
This product runs on a parallel circuit, meaning if one globe is blown the remainder will still function correctly. Two spare bulbs are supplied with each set. If one of the bulbs turns off suddenly, please ensure the bulb is tightly secured because if the connection is loose the light will not work.
Once the light switch is turned on at the back of the solar panel, the lights will automatically come on at dusk and turn off at dawn.
Charging with the Solar Panel
With a powerful integrated 3.7V 2200mAh rechargeable Li-ion battery, you'll never need to worry about it running out of juice!
Either mount the solar panel using the included screws or use the spike to place anywhere in your garden.
The solar panel can be charged separate to the position of the string lights, meaning you can mount the string lights wherever you like (whether sunny or not - even indoors) then position the panel to capture the sun during the day and re-attach in the evening to power the lights.
For consecutive rainy days or in winter, you can charge the solar panel separately using the micro USB port on the back of the solar panel. When charging you will see a red light, when the light is fully charged it will turn green.
To check whether the panel has charged during daylight hours, simply cover the solar panel to see whether the lights come on.
Linking/Extending
Should you wish to purchase an additional extension without the solar panel, please purchase the extension pack - link.
As the working current of the solar panel is fixed, the more light bulbs attached, the less brightness is achieved. Therefore we recommend adding a maximum of one additional extension to ensure the light is bright enough.
Solar lights are not only a viable alternative to conventional outdoor wired lights, particularly where installing electrical lighting is prohibitive, but they're also eco-friendly, low in cost and highly energy-efficient thanks to their LED bulbs and energy-saving power source.  
With so many to select from, we've helped take the work out of choosing. Read more on our Solar Lights buying guide blog here. 
See more Decorative Lights.
Product Specifications
| | |
| --- | --- |
| Materials | ABS + Glass |
| Solar panel size | W210mm x D130mm |
| Solar panel | 5V / 3W |
| Light colour | Warm white |
| LED lumens | 240 |
| Light temperature (kelvins) | 2200K |
| Battery capacity | 2200mAh / 3.7V |
| Battery replaceable | No |
| Waterproof rating | IP65 |
| Operating time | 8 - 12 hours (depending on light mode) |
| Charging time | 8 hours |
| Number of lights | 25 + 2 spares |
| Cable length | 8 metres |
| Length between lights | 295mm |
| Cable length from panel to first light | 900mm |
| Bulb size | 39.80mm |
What's Included
Warm White Solar Party Bulb String Lights - Starter Set (x1)
Latest Hoselink Catalogue
Warranty
| | |
| --- | --- |
| Model name | Warm White Solar Party Bulb String Lights - 25 Bulb Starter Set |
| Model number | L465 |
| Weight | 1.2kgs |
| Colour | Black and clear |
| UV Resistant | Yes |
| Assembly required | Yes |
| Warranty | 12 months |
Reviews
Customer Reviews
Write a Review
Ask a Question
Filter Reviews:
lights
quality
Hoselink
solar panel
rain
length
glow
extension
delivery
service
18/11/2020
Seb
Australia
I recommend this product
Exceptional product & service
Bought these lights for our apartment balcony based on the overwhelmingly positive reviews. Received the order in record time, which goes to show how good Hoselink's service is. The product is of very high quality. I've just received a second set of garden spotlights which are also incredibly well made. Could not be happier & would happily recommend!
13/11/2020
Ellie
Australia
I recommend this product
Love them but bulbs blown
I have had these for 6 months & although they are beautiful & always get compliments, i have had 9 bulbs that have blown/stop working in 6 months. For the price I would expect to get longer use. They get 8 hours of sunlight. Unsure if I would purchase again, I would probably just get cheaper ones from Bunnings in the future.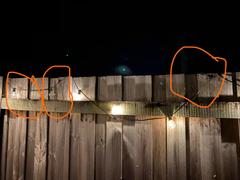 Hi Ellie, thank you for your review. You might be surprised but the bulbs haven't actually blown, the problem will be the connection. If you tighten the bulbs you will find that they turn back on with no issue. We can assure you these have been manufactured to last many years without any problems. Kind regards, The Hoselink Team
10/11/2020
Lian H.
Australia
I recommend this product
Beautiful quality
Fabulous set of lights and absolutely beautiful quality. They last all night (I often see them switch off a bit after dawn when I'm up with my toddler). We accidentally smashed two globes during installation - the set comes with two spare globes, and I emailed Hoselink about replacing the spares and they replaced them completely free of charge.
02/11/2020
Leanne L.
Australia
I recommend this product
party
love this product. they actually throw more light than I expected and don't need too much sunlight to be charged and ready
31/10/2020
Al
Australia
I recommend this product
High quality - but be aware they are GLASS bulbs
These are a high quality set of lights - the solar unit it phenomenal! The bulbs are quite small and relatively closely spaced. The warm light is very nice and lights up outdoor areas very effectively - I have the extension kit attached (total 50 bulbs) and there is no dimming in light towards the end of the chain. My only issue, and this is my own fault for not reading the specifications closely enough - is that the bulbs are GLASS. I stupidly assumed that all outdoor products would be plastics to ensure they're adequately robust - sadly, already have one shattered bulb - and my lights have been up for one night. I can only assume a breeze has tapped it against a post. (They were set up under a veranda with minimal fall between hooks - as I didn't want them swinging in a breeze in the first place!) The starter pack only comes with two spare bulbs - and I can't see where to purchase more separately. I no longer feel these are suitable for outdoor use, and don't want to leave my $130 odd investment to break any further! This is the only disappointing part for what is otherwise a high quality product. But it's rather crucial - so would recommend considering this and the location you plan for them. Would only purchase again if Hoselink changed to more robust bulbs. I'm pretty disappointed.
28/10/2020
Jo
Australia
I recommend this product
Wow!
I have some solar lights already from Hoselink and was super impressed by the quality and service. I already have cheaper string lights from Bunnings that are great...as long as you get enough light. I wanted some warm white globe style lights for my balcony for more light and this delivered! I charged the panel up first using mains power and I can't believe how bright these are! They are so bright I was able to read a book outside at night. I was planning on leaving them on but I decided to turn them off when I was done as the light spill was probably too much for an allnighter in an apartment setting (conscious of neighbours). Length was great, in fact it was too long so I just unscrewed some of the globes to 'shorten' the length. If you want quality and brightness I highly recommend these. The solar panel is big and solid.
06/10/2020
Julie B.
Australia
I recommend this product
Warm White Solar Party Bulb String Lights
Love this product - easy to install and looks great - quick delivery
04/10/2020
Anna B.
Australia
I recommend this product
Great lights
Love these lights, easy to set up, nice and bright, make a lovely atmosphere in our backyard
02/09/2020
Amanda M.
Australia
I recommend this product
Amazing product
Great quality, bulbs have the perfect size, not too big nor too small. Very bright when on too. We've installed 2 months ago in our outdoor area under rain and wind, and still holding strong and working perfectly. However the solar charge lasts not longer than 2 or 3 hours, even under direct sunlight for several hours, which can be a bit frustrating in an event of a party or bbq at home. there was a problem with part of the product- the timely response and replacement of the product was polite and complete Great customer service
02/09/2020
Anita H.
Australia
I recommend this product
Warm white solar party bulb string lights
I was so impressed I bought another lot and am planning on buying more. They last till dawn on a good day. Creates such a beautiful soft glow.