Superflex Garden Hose + Premium Ned Kelly Kit
Durable & kink-resistant, 20m or 30m options
Own it now, pay later
Product Video
See it in action! Watch a video featuring this product to learn more.
If kink resistance and durability are what you're searching for, then look no further!
The Superflex Hose + Premium Ned Kelly Starter Kit includes the hose in either 20m or 30m length of your choice with no-burst fittings and Premium 7-Function Spray Gun.  The set includes fittings for the tap, both ends of the hose plus an Accessory Swivel Connector, to make watering your garden easy.  The product arrives with the Hose Connectors pre-fitted on the ends of the hose so all you need to do is connect the Tap Connector and sprayer and you're ready to water.
Hoselink's best selling Superflex Hose is specially engineered for strength and durability. With a Kink Resistance Rating of 9, this popular hose features a three-layer material knit and thick wall design that helps prevent kinks and twists. Thanks to its high-quality construction, this hose is built to last and you'll enjoy using it for years to come.
The popular Superflex Hose has been tested to 500psi so you can rely on it not to burst or break under high water pressure. Additionally, with its high abrasion resistance, there is no need to worry about damage from dirt, debris or rubble.
The Superflex Hose is a hard-wearing hose that will retain its shape and consistency even in the toughest weather conditions. It is suitable for climates ranging from -5°C to 50°C and has been UV stabilised to prevent damage from the harsh Australian sun. From the height of summer to the frosts of winter, your heavy-duty Superflex Hose will remain flexible and easy to use all year round.
All Hoselink garden hoses are BPA and lead-free.
See more Hoses & Nozzles.
What's Included
Superflex Hose - Fitted
A hard wearing hose ideal for people who require durability, strength and kink resistance. Pre-fitted with 2 x Hose End Connectors.
Premium 7-Function Spray Gun
High quality, heavy duty metal spray gun with a soft grip rubber handle. Enjoy complete water control with 7 different spray settings. Long periods of watering are a breeze with the continuous spray lock feature.
Accessory Connector with Swivel
The built-in swivel function prevents the hose from twisting when you're watering. Screws directly into the thread of your spray gun and connects to your hose.
Universal Tap Connector
Screws onto any size Australian tap for a watertight seal between your tap and hose.
Product Specifications
Model Name
Superflex Hose with Premium Ned Kelly Starter Kit

Model Number

4807-20 (20m) / 4807-30 (30m)

Material

Polyvinyl Chloride (PVC)

Colour

Green with orange stripe
Weight
5.45kg (20m) / 7.92kg (30m)
Length
20m / 30m

Diameter

12mm
Maximum Pressure
500psi

UV Resistant

Yes
Individual Item
Yes
Warranty
Hose - 8 years
Fittings - 3 years
Accessory Connector with Swivel - 12 months
Premium 7-Function Spray Gun - 12 months
What's Included
Superflex Garden Hose
2x Hose Connector pre-fitted to hose
1x Universal Tap Connector
1x Accessory Connector with Swivel
1x Premium Metal 7-Function Spray Gun
Latest Hoselink Catalogue
Recommendations:
Hang your hose in large loops on a hose hanger to make it easy to store and use
Wherever possible store your hose out of direct sunlight for long periods of time
The Superflex Hose is not suitable for use with an auto-rewind hose reel due to the thickness and external properties of the hose
Water from this hose is NOT drinkable
Q. What's the difference between the Classic and Superflex hoses?
A. Whilst both hoses have been developed to provide maximum kink-resistance and durability, the Superflex has been manufactured from higher grade materials to additional durability and therefore carries an 8 year warranty. The Classic hose carries a 6 year warranty. Performance of the Classic and Superflex hoses are similar in terms of water flow, flexibility and ease of winding up.

Q. Is this hose kink proof?
A. No hose is completely kink proof. All of our hoses have been designed to provide maximum kink resistance and if used properly, should work without a kink for years to come.

Q. Can I use Hoselink with my other watering accessories, pressure washers, etc.?
A. Yes, it can be done either with an adapter or by direct connection. For more information, see this link: http://www.hoselink.com.au/view/Sprinkler-Accessory-Compa
Reviews
Customer Reviews
11/11/2019
yvonne s.
Australia
Superflex Garden Hose + Premium Ned Kelly Kit
I am very happy with the product. The hose doesn't tangle and it doesn't blow off the tap. It is east to use and it connects with just a simple twist. The sprayer is great with all the different settings. I have a vegetable garden and find it very useful.
09/11/2019
Sharyn R.
Australia
Superflex Garden Hose + Premium Ned Kelly Kit
Good as there are usually no leaks, easy to use and very hardy
03/11/2019
Lydia C.
Australia
Superflex Garden Hose
This is the third hose I have purchased from Hoselink and like the other two, it does not disappoint. No kinking and no leaking/bursting as promised, and the Ned Kelly Kit has always been reliable and effective.
31/10/2019
Rosa R.
Australia
Garden hose
I really like my hose. No wet feet from leakage
31/10/2019
Jeanette W.
Australia
Finally
We've been putting up with hose connections that deteriorate or leak or come apart. I'm very happy with this product because the connection mechanism is strong and intelligently designed and works beautifully
08/10/2019
STEPHEN B.
Australia
Sold on Hoselink for Life
It was fantastic order arrived on time as we were told by email , everything was there and works great. I will never buy another type of hose again they are fantastic , and you can buy parts and repair kits you can't ask for anymore than that great product guys and great buying experience. Stephen Budd NSW
01/10/2019
Julie O.
Australia
A great hose = happiness
I absolutely love this hose and the trigger gun attachment. The trigger gun is made of metal, which is a nice surprise after all the rubbish plastic ones I have bought over the years. The hose reel is incredible. Made of metal, decent size wheels and doesn't tip over. The feeder wheel is the key to the hose not bending. There is a nifty tray between the handle, perfect spot to rest a cup of tea or wine. Hoselink think of everything.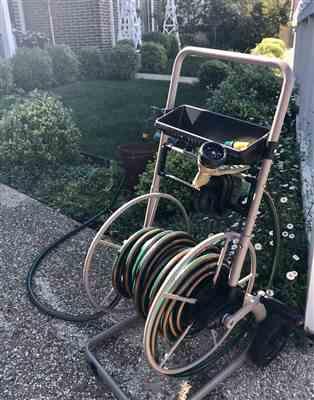 21/09/2019
Vijay K.
Australia
HoseLink hose and fitting
The hose is solid built and is great to use. The fitting are anti bust and they to that. Both the product are great
02/09/2019
Tahnee C.
Australia
Best purchase of the year!
Very happy with my new hose set, doesn't kink as promised and looking at the connections I'm confident they'll also live up to the hype. We'll worth it, I'll surely be buying more for the rest of the property.
01/09/2019
Sheila L.
Australia
Superflex Garden Hose + Premium Ned kelly Kit
Excellent experience