Adapter Pack
Adapt to any brand watering accessory
Next available shipment due in
This set of fittings will allow you to convert to a variety of different connections on other watering equipment you may already have.
All Hoselink fittings are BPA and lead free
See more Adapters.
What's Included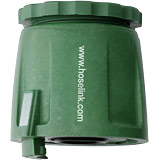 Universal Tap Connector
Screws onto any size Australian tap for a watertight seal between your tap and hose. Can be used with accessories that have a male thread (e.g. pressure washers, caravans, boats).
Accessory Connector
Securely connects your hose to your watering accessory (e.g. spray gun, nozzle or sprinkler) in a watertight seal that won't leak or burst off. Screws directly into the thread of your watering accessory or any outlet with a female (inner) thread.
Click-On Adapter Set
Connect your Hoselink fitted hose to your 'click-on' watering accessories. Simply screw the Accessory Connector into the Click-On Adapter to connect your hose and watering accessory. Not covered by the Hoselink no-burst guarantee.
Spare O-Rings 12mm
Black rubber O-rings securely fit into the groove in the face of each 12mm Hoselink fitting to ensure a watertight seal.
Product Specifications
| | |
| --- | --- |
| Model Name | Accessory Conversion Bundle |
| Model Number | 9962 |
| Assembly Required | Yes (please see Fitting Instructions) |
| Individual Item | No |
| Warranty | As per individual items |
| Items Included | |
Q. Can I change any of the items in this bundle?
A. Unfortunately the items in this bundle cannot be edited or changed.
Q. Why would I need the additional connectors? Don't I just need a starter kit?
A. You can certainly just start with one of our Starter Kits, however most people find they have a sprinkler they'd like to keep using, or in spring they might want to use some weed'n'feed spray on their lawn. The adaptors included will ensure you can still connect to these other items to your new Hoselink fittings.