Tap to Hose Connector Set
A reliable, watertight connection that won't burst
Own it now, pay later
Product Video
See it in action! Watch a video featuring this product to learn more.
Never get frustrated with your hose leaking or bursting off your tap again!
Hoselink's Tap to Hose Set securely connects your tap to your hose in a watertight seal that won't burst apart.
The Tap to Hose Set is made up of two individual Hoselink parts:
Universal Tap Connector
Hose End Connector
Hoselink garden hose connectors are guaranteed to never burst off your hose! Thanks to the ergonomically designed bayonet style connection you simply line up the Hose End Connector to the Universal Tap Connector and 'point and twist' to join them together. It is an easy to use connection for any age, including for those with arthritis. We believe Hoselink's no leak garden hose fittings are the best hose connectors in Australia. Our connectors grip the hose and won't let go, via a barbed stem and o'ring which compresses around the hose making it 100% watertight.
Hoselink hose connectors will fit any standard 12mm garden hose. To find out how easy it is to fit Hoselink connectors, follow our step-by-step fitting instructions click here
Purchase Hoselink Hose Fittings and join thousands of Australians enjoying a better watering experience. Our hose fittings are covered by a 3 year warranty and if you aren't satisfied with your purchase within 30 days we'll happily give you your money back.
See more Accessory & Connector Bundles.
What's Included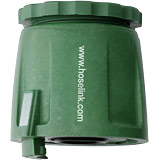 Universal Tap Connector
Screws onto any size Australian tap for a watertight seal between your tap and hose. Can be used with accessories that have a male thread (e.g. pressure washers, caravans, boats).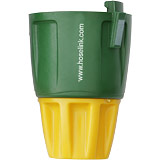 Hose End Connector
Clamps onto your standard size garden hose (12mm) in a secure connection guaranteed to never burst off.
Product Specifications
| | |
| --- | --- |
| Model Name | Tap to Hose Set |
| Model Number | 2310 |
| Material | Connectors (nylon), Split ring (plastic), O-Ring (rubber) |
| Colour | Green and yellow |
| Hose Fitting Size | 12mm |
| Tap Thread Fitting Size | 25mm (1") and 20mm (¾") with included reducer |
| Maximum Pressure | 550psi |
| UV Resistant | Yes |
| Assembly Required | Yes |
| Warranty | 3 years |
What's Included
Universal Tap Connector (x1)
Reducer (x1)
Hose End Connector (x1)
White Split Ring (x1)
Fitting Instructions
Latest Hoselink Catalogue
Reviews
Customer Reviews
Write a Review
Ask a Question
Filter Reviews:
leaks
hose
connectors
garden
taps
quality
service
delivery
Fittings
problem
06/07/2020
Maree M.
Australia
I recommend this product
Excellent quality products
As usual there have been no problems with our Hoselink items. Always very satisfied with the service and quality
04/07/2020
Brian H.
Australia
I recommend this product
Tap to hose connector set
Exellent no more drips
01/07/2020
Kathryn W.
Australia
I recommend this product
Works perfectly
My old hose connector was just the $2 one from the supermarket...worked well - if you didn't mind it leaking lots. This Hoselink connector is perfect !! No drips or leaks - it does EXACTLY what they say it does------NO leaks. Love , love , love it! I will definitely be buying more fittings. Delivery was excellent , too
21/06/2020
Jane C.
Australia
I recommend this product
Fittings
What a great company to deal with i had z small issue with a couple of fittings and i contacted them znd it was resolved the next day . I have been using hoselink for the past 9 years and have not found better product
16/06/2020
bernice k.
Australia
I recommend this product
Tap to Hose connector
Love your products. Have now converted all of our caravan hoses to Hoselink fittings. Great service.
13/06/2020
David T.
Australia
I recommend this product
Nearly there
I have used your hose connections for a few years now. Best on the market and service is always great. The hose clamp part is a bit fiddly and this could now move on like a lot of pipe fittings and be push fit. Other than that once set up holds well and I keep buying them so must be good.
13/06/2020
Peter D.
Australia
I recommend this product
Useage
I find you product very useful as I have used them before
19/05/2020
Alex H.
Australia
I recommend this product
So far it has been
So far it has been fantastic. No more leaking at the tap etc.
16/05/2020
Leone F.
Australia
I recommend this product
Hoselink is the original and the best retractable hose on the Australian market.
My 2 daughters bought me this hose for a Christmas gift about 5 years ago because my grandson told them that grandma was having terrible trouble with hoses, both front and back of the house, as they kept getting twisted and wouldn't reach the right places. Since I have had a Hoselink, hosing the garden has become a pleasure, not just a chore!
10/05/2020
Jennie C.
Australia
I recommend this product
I really like it but...
I didn't tighten the top, tap half tight enough, and when I tried to connect the bottom hose piece, the system did not click in and the connection completely jammed needing multi-grips to ply them apart.. Perhaps a word of caution is needed? The system is working fine now.