Tap to Hose Connector Set
A reliable, watertight connection that won't burst
Next available shipment due in
New colour option now available! 
Never get frustrated with your hose leaking or bursting off your tap again!
Hoselink's Tap to Hose Set securely connects your tap to your hose in a watertight seal that won't burst apart.
The Tap to Hose Set is made up of two individual Hoselink parts:
Universal Tap Connector
Hose End Connector
Hoselink garden hose connectors are guaranteed to never burst off your hose! Thanks to the ergonomically designed bayonet style connection you simply line up the Hose End Connector to the Universal Tap Connector and 'point and twist' to join them together. It is an easy to use connection for any age, including for those with arthritis. We believe Hoselink's no leak garden hose fittings are the best hose connectors in Australia. Our connectors grip the hose and won't let go, via a barbed stem and o'ring which compresses around the hose making it 100% watertight.
Hoselink hose connectors will fit any standard 12mm garden hose. To find out how easy it is to fit Hoselink connectors, follow our step-by-step fitting instructions click here
Purchase Hoselink Hose Fittings and join thousands of Australians enjoying a better watering experience. Our hose fittings are covered by a 2 year warranty and if you aren't satisfied with your purchase within 30 days we'll happily give you your money back.
All Hoselink fittings are BPA and lead free
See more Tap Connectors.
What's Included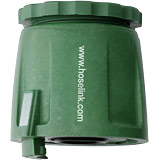 Universal Tap Connector
Screws onto any size Australian tap for a watertight seal between your tap and hose. Can be used with accessories that have a male thread (e.g. pressure washers, caravans, boats).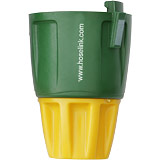 Hose End Connector
Clamps onto your standard size garden hose (12mm) in a secure connection guaranteed to never burst off.
Product Specifications
| | |
| --- | --- |
| Model Name | Tap to Hose Set |
| Model Number | 2310 |
| Material | Connectors (nylon), Split ring (plastic), O-Ring (rubber) |
| Colour | Green and yellow |
| Hose Fitting Size | 12mm |
| Tap Thread Fitting Size | 25mm (1") and 20mm (¾") with included reducer |
| Maximum Pressure | 550psi |
| UV Resistant | Yes |
| Assembly Required | Yes |
| Warranty | 2 years |
What's Included
Universal Tap Connector (x1)
Reducer (x1)
Hose End Connector (x1)
White Split Ring (x1)
Fitting Instructions
Latest Hoselink Catalogue