Premium Ned Kelly Starter Kit
7-function sprayer and connectors plus bonus swivel
Recommended Extras
Click-on Adapter Set (+$7.90)
Click-on Adapter Set
Own it now, pay later
Product Video
See it in action! Watch a video featuring this product to learn more.
Solve your hose woes today with our best selling Premium Ned Kelly Starter Kit.
Built tough for Aussie conditions, you can count on these hard-wearing long-lasting hose fittings to NEVER burst off your hose!
If you already have a hose, don't worry about guessing which fittings you need to get started, this kit has it all.  It also includes our new and improved Accessory Connector with built-in swivel function, allowing you to turn your spray gun without tangling your hose.
Fitting any size Australian tap and standard size garden hose (12mm), these innovative hose fittings provide a 100% watertight connection every time.
Thanks to the ergonomically designed 'point and twist' connection they are easy to use for any age, including for those with arthritis.
To keep things as simple and user-friendly as possible, the face of each fitting has been specifically engineered to be identical. This means each part of the Hoselink hose fitting system is completely interchangeable. You can connect taps to hoses, hoses to accessories, and hoses to hoses without needing additional parts. Now isn't that easy?
Learn how to connect Hoselink to your hose by watching the video here
Purchase Hoselink hose fittings and join thousands of Australians enjoying a better watering experience. Hoselink fittings are covered by a 3 Year Warranty and the Premium Metal Spray Gun is covered by a 12-month warranty.  If you aren't satisfied with your purchase within 30 days we'll happily give you your money back.
See more Accessory & Connector Bundles.
What's Included
Premium 7-Function Spray Gun
High quality, heavy duty metal spray gun with a soft grip rubber handle. Enjoy complete water control with 7 different spray settings. Long periods of watering are a breeze with the continuous spray lock feature.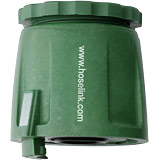 Universal Tap Connector
Screws onto any size Australian tap for a watertight seal between your tap and hose.
Accessory Connector with Swivel
The built-in swivel function prevents the hose from twisting when you're watering. Screws directly into the thread of your spray gun and connects to your hose.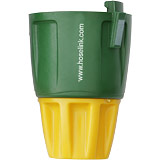 Hose End Connector x 2
Clamps onto your standard size garden hose (12mm) in a secure connection guaranteed to never burst off.
Product Specifications
| | |
| --- | --- |
| Model Name | Premium Ned Kelly Starter Kit |
| Model Number | 2256 |
| Material | Fittings (nylon), spray gun (metal, rubber) |
| Colour | Green, yellow, metallic, black |
| Fitting Size | 12mm |
| Sprayer Weight | 395 grams |
| Maximum Pressure | 550psi |
| UV Resistant | Yes |
| Assembly Required | Yes |
What's Included
Tap Connector (x1)
Hose Connectors (x2)
Accessory Connector with Swivel (x1)
Premium Metal 7 Function Spray Gun (x1)
Spare O-Rings (x3)
White Split Rings (x2)
Fitting Instructions
Latest Hoselink Catalogue
Warranty
| | |
| --- | --- |
| Tap Connector | 3 years |
| Hose Connectors (x2) | 3 years |
| Accessory Connector with Swivel | 12 months |
| Premium Metal 7 Function Spray Gun | 12 months |
Q. Can I use Hoselink with my other watering accessories, pressure washers, etc.?
A. Yes, it can be done either with an adapter or by direct connection. For more information, see our 'How to Adapt to Hoselink' guide: https://www.hoselink.com.au/adapt-to-hoselink

Q. Will this kit fit my tap?
A. The included Universal Tap Connector fits the 2 common tap sizes found in Australia, by way of use with or without the included size reducer.

Q. Can I use this kit with a recycled water tap?
A. Yes! We now have a brass converter available that turns the reverse thread into a regular thread. You can then attach our Universal Tap Connector to this. See http://www.hoselink.com.au/buy/recycled-water-tap-converter/5748
Reviews
Customer Reviews
04/12/2019
Sue R.
Australia
I recommend this product
Fast delivery- excellent product
Should have invested years ago - really is the no hassle watering solution Absolutely love it!
10/10/2019
STEPHEN H.
Australia
Ned Kelly to the rescue
I actually purchased the "Ned Kelly" fittings for my parents who are in their 80's and struggle with the day to day type push on fittings. They are both extremely happy with the new fittings and find them a lot easier to use.
03/10/2019
David F.
Australia
It's excellent
It's easy to fit -- no drip system. Spare O ring a good idea for servicing at a later time.
01/10/2019
Stephanie C.
Australia
Awesome Product
Fantastic Products with easy to install and use. Best thing is can add a Padlock to prevent the unit from being stolen. Thanks for making our lives easier.
28/09/2019
John P.
Australia
15m Retractable Jose reel
Absolutely Excellent product and fantastic service I have recommended the product to many of my friends keep up the good work and thank you.
28/09/2019
Glenus J.
Australia
Premium Ned Kelly Starter kit
It is the normal top quality of hoselink products, I find it is the only product of this type of hose gun, that I will ever buy. Excellent product.
27/09/2019
Anonymous
Australia
So far so good
So far so good
25/09/2019
Ardys Z.
Australia
My new favourite task
I am so thrilled by my new Hoselink starter kit that my new favourite task is hand watering and I wish I had more of it! The hardest part of installation was getting the old calcified fittings off the tap so we could put the Hoselink ones on. Great products.
24/09/2019
Katie M.
Australia
Love my hoselink!
It's been awesome, had mine for over four years and only just now needing a new sprayer! Everyone needs a hoselink in their house!
24/09/2019
David D.
Australia
love it
We use this every day & is very robust