Ned Kelly Starter Kit
Basic hose fittings + metal spray gun
Product Video
See it in action! Watch a video featuring this product to learn more.
Solve your hose woes today with our best selling Ned Kelly Starter Kit.
Built tough for Aussie conditions, you can count on these hard-wearing long-lasting hose fittings to NEVER burst off your hose!
If you already have a hose, don't worry about guessing which fittings you need to get started, this kit has it all. It also includes our new and improved Accessory Connector with built-in swivel function, allowing you to turn your spray gun without tangling your hose.
Fitting any size Australian tap and standard size garden hose (12mm), these innovative hose fittings provide a 100% watertight connection every time.
Thanks to the ergonomically designed 'point and twist' connection they are easy to use for any age, including for those with arthritis.
To keep things as simple and user-friendly as possible, the face of each fitting has been specifically engineered to be identical. This means each part of the Hoselink hose fitting system is completely interchangeable. You can connect taps to hoses, hoses to accessories, and hoses to hoses without needing additional parts. Now isn't that easy?
Learn how to connect Hoselink to your hose by watching the video here
Purchase Hoselink hose fittings and join thousands of Australians enjoying a better watering experience. Hoselink fittings are covered by a 3 Year Warranty and the Premium Metal Spray Gun is covered by a 12-month warranty. If you aren't satisfied with your purchase within 30 days we'll happily give you your money back.
See more Accessory & Connector Bundles.
What's Included
7-Function Spray Gun
High quality, heavy duty metal spray gun with a soft grip rubber handle. Enjoy complete water control with 7 different spray settings. Long periods of watering are a breeze with the continuous spray lock feature.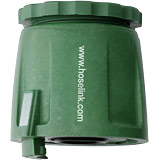 Universal Tap Connector
Screws onto any size Australian tap for a watertight seal between your tap and hose.
Accessory Connector with Swivel
The built-in swivel function prevents the hose from twisting when you're watering. Screws directly into the thread of your spray gun and connects to your hose.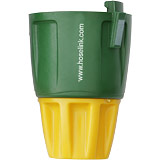 Hose End Connector x 2
Clamps onto your standard size garden hose (12mm) in a secure connection guaranteed to never burst off.
Product Specifications
| | |
| --- | --- |
| Model Name | Ned Kelly Starter Kit |
| Model Number | 2256 |
| Material | Fittings (nylon), spray gun (metal, rubber) |
| Colour | Green, yellow, metallic, black |
| Fitting Size | 12mm |
| Sprayer Weight | 395 grams |
| Maximum Pressure | 550psi |
| UV Resistant | Yes |
| Assembly Required | Yes |
What's Included
Tap Connector (x1)
Hose Connectors (x2)
Accessory Connector with Swivel (x1)
Metal 7 Function Spray Gun (x1)
Spare O-Rings (x3)
White Split Rings (x2)
Fitting Instructions
Latest Hoselink Catalogue
Warranty
| | |
| --- | --- |
| Tap Connector | 3 years |
| Hose Connectors (x2) | 3 years |
| Accessory Connector with Swivel | 12 months |
| Premium Metal 7 Function Spray Gun | 12 months |
Q. Can I use Hoselink with my other watering accessories, pressure washers, etc.?
A. Yes, it can be done either with an adapter or by direct connection. For more information, see our 'How to Adapt to Hoselink' guide: https://www.hoselink.com.au/adapt-to-hoselink

Q. Will this kit fit my tap?
A. The included Universal Tap Connector fits the 2 common tap sizes found in Australia, by way of use with or without the included size reducer.

Q. Can I use this kit with a recycled water tap?
A. Yes! We now have a brass converter available that turns the reverse thread into a regular thread. You can then attach our Universal Tap Connector to this. See http://www.hoselink.com.au/buy/recycled-water-tap-converter/5748