Accessory Connector
Connects to most spray guns, sprinklers and accessories
Own it now, pay later
Product Video
See it in action! Watch a video featuring this product to learn more.
Hoselink's Accessory Connector securely connects your hose to your watering accessory (for example spray gun, nozzle, or sprinkler) in a watertight seal.
The Accessory Connector screws directly into the thread of your watering accessory to create a super tight connection that won't leak or burst off under pressure.
As the Accessory Connector has a male thread, it can be used on many watering accessories (and some caravans) that have a female thread. Simply unscrew the click-on part of your current watering accessory and screw in our Accessory Connector.
If you have multiple accessories, we recommend you purchase additional Accessory Connectors so you can easily switch your hose between all of your watering accessories with a simple 'point and twist'.
Please note: only buy the Accessory Connector individually if you are ordering or already use Hoselink Hose Fittings.
Purchase Hoselink Hose Fittings and join thousands of Australians enjoying a better watering experience. Our hose fittings are covered by a 3 year warranty and if you aren't satisfied with your purchase within 30 days we'll happily give you your money back.
See more Hoses & Fittings.
Product Specifications
| | |
| --- | --- |
| Model Name | Accessory Connector |
| Model Number | 2470 |
| Material | Nylon |
| Colour | Green |
| Thread Type | Male |
| Thread Size | 3/4" BSP |
| Maximum Pressure | 550psi |
| UV Resistant | Yes |
| Individual Item | Yes |
| Warranty | 3 years |
What's Included
Accessory Connector (x1)
Fitting Instructions
Latest Hoselink Catalogue
Reviews
Customer Reviews
Write a Review
Ask a Question
Filter Reviews:
hose
Hoselink
products
quality
service
delivery
order
hoses
Sprinkler
water
19/01/2020
Philip R.
Australia
I recommend this product
Quick and Easy
Found having the sprinkler on a separate connector so much easier. Even bought one for my friend and she said the same.
18/01/2020
Linda L.
Australia
15/01/2020
Jordan W.
Australia
Another quality product
Turned my grandfather's classic sprinkler into a magical piece.., way to go Hoselink!!!
12/01/2020
Anthony T.
Australia
Good connection
Good service, excellent quality, quick delivery.
07/01/2020
Jan K.
Australia
Accessory product
Terrific. Great products and prompt delivery.
07/01/2020
Luke M.
Australia
Great quality products
After much research I bought a set of Hozelock reels and hoses (UK Brand) as a special order from Bunnings as I thought this brand was superior to the standard products such as Pope, Nylex, Holman and Gardena that Bunnings stock. After receiving the Hozelock products (took almost 10 days to arrive) I did not find the quality any different to the other rands so returned the 2 reels to Bunnings. After reading a heap of reviews on the Hoselink brand I decided to order 2 x 25 metre hi-flow reel sets and some extra connectors and accessories. When these arrived I was very happy I decided to make the change. The product was better quality and the hi-flow hose certainly provides greater water pressure than I have seen with other standard diameter hose reels. The unique connection system works very well also. So far no burst hose connections. I strongly recommend Hoselink products based on my recent purchasing experience and subsequent use of the hoses.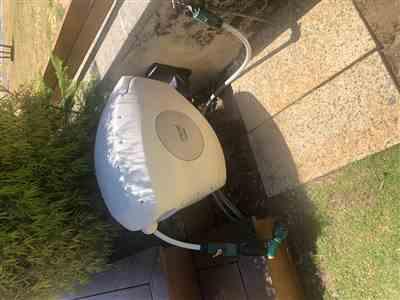 05/01/2020
scott t.
Australia
Happy customer
Great as always
02/01/2020
Mal M.
Australia
Love my hoselink
I switched to hoselink late last year. Absolutely love it. Will not go back to anything else. Have changed all my hoses. Initially a little expensive but soooo worth it. Highly recommended
02/01/2020
Angela S.
Australia
Fast delivery of this amazing product!
We ordered this product (a hose, reel & accessories) as a Christmas present for our son at the busiest time of the year. Couldn't believe how quickly it arrived, there was a message that there would be a delay but there wasn't. We love Hoselink! These are such high quality products and we have never been disappointed. Just built our dream retirement home in East Gippsland, one hose standing by in case of the fires coming closer and more to be ordered when we can. Great product :)
31/12/2019
Lee L.
Australia
The real star is the customer service
I've bought HoseLink products before and have been completely satisfied with them. This particular purchase was for an essentially unexciting item which performs perfectly but is not designed to put goosebumps on your skin. The REAL STAR of the company is the customer service. It seems counter-intuitive, but most companies' "customer service" departments give no service and don't seem to care about the customer. At HoseLink, the care and attention lavished on me when a tiny error was made with my order made me feel as though I'd just purchased millions of dollars of product! Ryan, the young man who took ownership of the issue, followed through and made sure I was happy. I AM HAPPY, and will be a HoseLink customer for life! (Now I just wish my garden was larger so that I'd need more things from them!!!) Well done, HoseLink!