This week, $10 from every Retractable Hose Reel sale will be donated to the Vinnies Bushfire Appeal
Padlock
Secures your Retractable Hose Reel
Own it now, pay later
Product Video
See it in action! Watch a video featuring this product to learn more.
This padlock suits any size Hoselink Retractable Hose Reel. 
It fits into one hole of the hose reel pin at the underside of the wall bracket, thereby securing the hose reel to the bracket.
The brass 30mm padlock comes with 2 keys.  Given it's use outside, spraying occasionally with a lubricant may be of use to keep the key well working smoothly.
NB: Unlike the standard wall bracket, the reel cannot be locked on to the Hose Reel Post using the padlock or any other method.
Short Description
Secures your Retractable Hose Reel
Specifications
Material - Brass
Keys - 2 supplied
Cross Sell Products
See more For Hose Reels.
Product Specifications
Material - Brass
Keys - 2 supplied
Reviews
Customer Reviews
Filter Reviews:
hose
quality
house
idea
company
friends
business
hose reel
padlock
theft
17/01/2020
Christine M.
Australia
I recommend this product
Love my new retractable Hoselink hose
Fantastic. No more frustrating manual wind ups of a kink filled hose. The hose just glides and is going to make things soooo much easier. Very happy with quality and a minor part issue was promptly rectified. Excellent customer service. Will highly recommend
15/01/2020
Graeme D.
Australia
I recommend this product
Hose reel padlock
I found the padlock secured the hose reel really well (no pun intended) and fitted easily. It is solidly built and the key inserts with a secure click. It's brass materials offer a weatherproof and reliable solution to potential theft and the padlock looks good too. I have no hesitation in recommending this anti-theft solution. In addition I feel that it is a must where the hose reel can be seen from the street and I'm sure the lock would act as a visual deterrent to any thief.
04/01/2020
Andrew B.
Australia
I recommend this product
Great product great service
This is my second hose-reel and I am very happy with it. Love the fact that I dont end up soaked when i remove the hand-piece from the hose or the hose connectors disconnect when using the hose.
01/01/2020
Anonymous
Australia
I recommend this product
Bruce Osborne: Review, Hoselink 25M High Flow Hose Reel
Just love Hoselink from the quality of the product. The use of the product as it just works so well and obviously has been brilliantly designed. After ordering my 25 meter Hoselink High Flow hose reel set I made a mistake and ordered the wrong size vinyl cover. This was simply not an issue for the kind staff member who just simply supplied me the correct cover at no charge. This to me just shows the high quality of staff and the training they have been given to simply make the customer come first. Just a brilliant product and business plan to simply be the best to all customers and having the best product, just also makes the whole thing work better. Thank you to the whole team for doing your jobs so well to make Hoselink simply the best hose reel company in the business. Where ever I am if I need a hose reel, it will now only be a Hoselink product and I am telling all my friends just how brilliant the company, staff and products are. The only negative is that the product is being made in China, although to Hoselink specifications. Disappointing that to help you compete in the market with all the **** products out there that your forced to go to China. Kind Regards, Bruce e.bruce.osborne@gmail.com Mobile: 0433 043 113. Sorry have an iPhone 11 Pro with "Silence Unknown Callers" turned on! Because of nuisance callers. So please leave a message if you need to ring.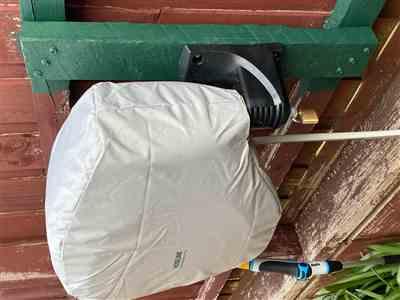 25/12/2019
barbara k.
Australia
I recommend this product
Safety and Security First!
I have three (3) Hoselink HoseReel Modules placed on three corners of my house for easy use when gardening - and each one has a PADLOCK on it for safety & security. My neighbourhood is not known for theft but it pays to be cautious, so i recommend a Hoselink PADLOCK on any hosereel module you buy. No Worries then!
24/12/2019
Leanne N.
Australia
I recommend this product
Padlock
It should be advertised with the hose , l don't mind paying more but it wasn't actually advertised as an acssessory, l only came across it while browsing around the site ... It's a brilliant idea especially for front yards
07/12/2019
Neil C.
Australia
I recommend this product
Padlock Review
Spot on product
23/11/2019
Simon M.
Australia
I recommend this product
padlocks
just perfect, suited to the system without me having to worry about the size etc, took the pressure off
18/11/2019
Jean S.
Australia
Padlocks
The padlocks are a good idea to keep your hose safe from loose hands
09/11/2019
Bruce B.
Australia
Good idea
Good product and great service , Speedy delivery too, would definitely recommend this