Product Video
See it in action! Watch a video featuring this product to learn more.
A large garden area needs a sprinkler that will reach the distance.
An Impulse Sprinkler is the one that most professional groundskeepers rely on. It delivers a good, even coverage over a large distance, sufficiently soaking the full area.
This sprinkler can be adjusted to cover from a 30-degree to 360-degree radius. Depending on water pressure, it will reach up to a 30m diameter. You are sure to appreciate the solid metal construction and sturdy ground spike that will not budge.
Comes with a FREE Hoselink Accessory Connector for quick connect to your Hoselink fitted hose.
This product comes with a Hoselink connector included for quick connection to your Hoselink-fitted garden hose.  If you are new to Hoselink then you will need to either convert your hose to Hoselink no-burst fittings (we recommend the Water Wise Starter Kit) or alternatively you can unscrew the Hoselink connector from this device and replace it with a standard click-on style male connector (please note we do not sell these).
See more Sprinklers.
Product Specifications
Impulse Sprinkler Spike
Model Name
Impulse Sprinkler Spike
Model Number
5648
Material
Powder coated metal spike with brass & metal workings
Colour
Green, black, brass
Maximum Pressure
120psi
Weight
0.75kg
Length
Full Product: 40cm, Spike (underground): 18cm
UV Resistant
Yes
Assembly Required
No
Hose Fitting Size
12mm
Individual Item
No
Warranty
1 year
What's Included
1x Impulse Sprinkler Head with Spike
1x Hoselink Accessory Connector
1x Latest Hoselink Catalogue
Reviews
Customer Reviews
Write a Review
Ask a Question
Filter Reviews:
Sprinkler
Hoselink
coverage
area
quality
purchase
range
delivery
ground
yard
28/09/2020
Faye C.
Australia
I recommend this product
Have not used it yet as we've had a lot of rain
I am not sure how to use it, I wanted to test it but I find the directions hard to read, I do not understand how to use it…….. so I put it away for later when I can ask someone to help me.
02/09/2020
Bryce G.
Australia
I recommend this product
impulse sprinkler spike
I have had one of these for all last summer to irrigate an area I couldn't cover. Other than having to replace the connector due to UV light deterioration it has worked faultlessly. I have bought 2 more as spares but would have loved them to be able to be daisy chained. That is something that could be improved in future versions
04/05/2020
Martin L.
Australia
I recommend this product
Love the product
I had a little bit of trouble with the sprinkler but hoselink fixed it very pleased with sprinkler and service
18/04/2020
Christine T.
Australia
I recommend this product
Great sprinkler.
I have several of these sprinklers. It's a real bonus to be able to adjust them and customise them to the areas needing watering. I highly recommend - yet another excellent product in the Hoselink range.
16/01/2020
Francessca O.
Australia
I recommend this product
Excellent as always !
This is the second Impulse sprinkler I have purchased as I have a 5 acre property and the huge area of ground the spray covers saves hours of dragging hoses around. As with all Hoselink products it is well made, easy to use and heavy duty / quality materials. I am especially pleased that like all the Hoselink sprinklers/hose heads there are so many ways the length of spray, the radius are area that needs to be watered can be adjusted to suit. Products come with clear instructions for use and hallalujah for us 'visual learners'… there is always a video to watch on their site. I cannot recommend the Hoselink products enough…. from the first non-tangle, retractable hoses I purchased , all the attachments and products in between to this latest purchase…. I LOVE HOSELINK PRODUCTS 11star !!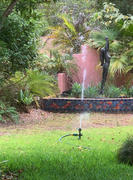 16/01/2020
Paul E.
Australia
I recommend this product
Excellent service
Professional and helpful
20/12/2019
Annette B.
Australia
I recommend this product
The Impulse Sprinkler
I purchased this sprinkler to water our large front yard. I found that it could accomplish this with just two moves so it saves me from what was changing the sprinkler location from four different locations to water the yard. Very impressed.
18/12/2019
Erin R.
Australia
I recommend this product
Impulse Sprinkler Spike
Best purchase. Has cut my watering time in half.
14/12/2019
Anne-Mari R.
Australia
I recommend this product
Excellent sprinklet
We love our new sprinkler, the quality is 5 star,it actually covers 3/4 of our lawn while watering
07/12/2019
Matthew L.
Australia
I recommend this product
Great product
Works well! Easy to set up! Arrived super quickly from Hoselink! All in all very happy!