Hose to Accessory Connector Set
A reliable, watertight connection that won't burst
Own it now, pay later
Product Video
See it in action! Watch a video featuring this product to learn more.
Never be frustrated again by your spray gun bursting off the end of your hose! Hoselink's Hose to Accessory Set securely connects your hose to your spray gun, nozzle, or sprinkler in a watertight seal.
The Hose to Accessory Set is made up of two individual Hoselink parts:
Hose End Connector
Accessory Connector
Thanks to the ergonomically designed bayonet style connection you simply line up the lugs on each fitting and 'point and twist' to join them together. It is an easy to use connection for any age, including for those with arthritis.
Many non-Hoselink watering accessories are also compatible with Hoselink's Accessory Connector. Simply unscrew the click-on connection on your current watering accessory and replace it with our Accessory Connector.
For fitting instructions click here
Purchase Hoselink Hose Fittings and join thousands of Australians enjoying a better watering experience. Our hose fittings are covered by a 3 year warranty and if you aren't satisfied with your purchase within 30 days we'll happily give you your money back.
See more Accessory & Connector Bundles.
What's Included
Accessory Connector
Securely connects your hose to your watering accessory (e.g. spray gun, nozzle or sprinkler) in a watertight seal that won't leak or burst off. Screws directly into the thread of your watering accessory.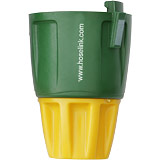 Hose End Connector
Clamps onto your standard size garden hose (12mm) in a secure connection guaranteed to never burst off.
Product Specifications
| | |
| --- | --- |
| Model Name | Hose to Accessory Set |
| Model Number | 2430 |
| Material | Connectors (nylon), Split ring (plastic), O-Ring (rubber) |
| Colour | Green, yellow |
| Fitting Size | 12mm |
| Maximum Pressure | 550psi |
| UV Resistant | Yes |
| Assembly Required | Yes |
| Warranty | 3 years |
What's Included
Hose End Connector (x1)
White Split Ring (x1)
Spare O-Ring (x1)
Accessory Connector (x1)
Fitting Instructions
Latest Hoselink Catalogue
Reviews
Customer Reviews
Write a Review
Ask a Question
Filter Reviews:
caravan
hose
connectors
Hoselink
products
garden
anyone
service
hoses
connector
01/06/2020
Cecily H.
Australia
I recommend this product
Very grateful
It was great. I didn't expect the connectors to be replaces free of charge.
29/02/2020
Paul D.
Australia
I recommend this product
Service and product
This company has gone over and above to help me out. Love companies that stand by their product and not just fluff and wind
14/02/2020
Nicholas O.
Australia
I recommend this product
The future of hose connectors
I have used hoses all my life and every day of my thirty year career as a zoo keeper and always hated them with a passion. Whether it be finding hoses frozen solid on an English winter morning or, most frequently, having the connections explode apart in the middle of hosing out an enclosure or pond. Having retired now, the last thing I ever wanted to deal with was disconnecting hose connectors. Thanks to Hoselink's hoses, hose reels and innovative connectors I have finally found peace.
02/02/2020
Ian W.
Australia
I recommend this product
Coversion of existing sprinklers
Great. Was to convert original sprinklers to HoseLink hoses.
02/02/2020
Robin R.
Australia
I recommend this product
Successful Warranty claim
The fitting was supplied by Hoselink for free to replace a brand new Hoselink fitting which leaked. I'm very pleased that Hoselink replaced the leaking fitting but disappointed that the expensive original leaked and I had to contact Hoselink for a replacement.
09/01/2020
Jane S.
Australia
I recommend this product
Mrs Jane Sparke
I had a problem with my adapter and contacted Hoselink for advice and the adapter was replaced and I received it in return mail, I found Hoselink to be extremely helpful and would recommend the products to anyone they are fantadtic
06/01/2020
William M.
Australia
I recommend this product
Always 5 star service
As per previous orders the ordering process was simple and the goods arrived quickly.
29/12/2019
Tony G.
Australia
I recommend this product
Hose to accessory connector set
Great. Had problems with connectors bursting off the end of the hose as we used water timers. Now this doesn't happen. Thankd
23/12/2019
Margaret G.
Australia
I recommend this product
comfort 8 Pattern flow control sprayer
I love using the Comfort 8 Pattern flow control sprayer especially the "shower nozzle". The water goes exactly where I aim it. I ended up buying four to put on all my hoses including the hose on my water tank. It is also great with filling up my watering cans as it is so easy to turn the water on and off without having to turn the tap on and off as I have a bad back. It is a great product. Should have bought them much sooner.
14/12/2019
Rita E.
Australia
I recommend this product
Making life easier in the garden
Have found this product invaluable. Easy to use, never leaks or bursts off, and fits other brand accessories I like fuss free gardening and Hoselink just works every time.