Handy Cleaning + Hose Reel Pack
Retractable Reel, extra connectors + cleaning accessories
Next available shipment due in
This bundle provides the ultimate cleaning and gardening solution rolled into one great kit! The bundle Includes Hoselink's bestselling Retractable Hose Reel plus some additional essential connectors (Universal Tap Connector, Accessory Connector, and Click-on Adapter Set), Extendable Cleaning Brush, Long-reach Pivot Gutter Cleaner, and Super Jet Washer. 
Price varies depending on the length of Hose Reel selected. Hose Reels come in three hose lengths: 20m, 25m Hi-Flow and 30m.

See more Retractable Hose Reels.
What's Included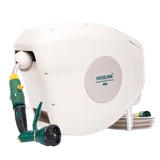 Retractable Hose Reel - choose your own length + colour
The ultimate way to water with ease. Comes with everything you need to get started including a Wall Bracket, Screw Set, 2m Leader Hose, Comfort 8-Pattern Flow Control Sprayer and Hoselink's no-burst Hose Connectors.
Long-reach Pivot Gutter Cleaner
The pivoting head can be adjusted in a 270-degree radius to suit whatever task you're undertaking; ideal for hooking over gutters to make a tough job much easier. Starting at 106cm, this telescopic gutter cleaning tool is made from lightweight aluminium. The rod extends to 160cm at full length, reducing the need for a ladder.
Super Jet Washer
The Super Jet Washer increases the velocity of the water from your garden tap to produce a fine hard spray that makes easy work of cleaning away stains, dirt and mud. The Super Jet Washer comes with a choice of two nozzles for an interchangeable fan and jet spray function.
Extendable Cleaning Brush
Cleaning your windows, solar panels, vehicle, house panels and more just got easier! Use the Extendable Cleaning Brush to deliver a continuous stream of water to whatever you are cleaning and let the soft bristles do the hard work of cleaning away dirt and grime. For additional cleaning power, just squirt some soap onto the bristles before cleaning.
Click-on Adapter Set
Connect your Hoselink-fitted hose to your 'click-on' watering accessories. Simply screw the Accessory Connector into the Click-on Adapter to connect your hose and watering accessory. Please note, this fitting is not covered by the Hoselink no-burst guarantee.
Universal Tap Connector
Screws onto any size Australian tap for a watertight seal between your tap and garden hose. Can be used with accessories that have a male thread (e.g. pressure washers, caravans, boats).
Accessory Connector
Securely connects your hose to your watering accessory (e.g. spray gun, nozzle or sprinkler) with a watertight seal that won't leak or burst off. Screws directly on to the thread of your watering accessory or any outlet with a female (inner) thread.