Basic Starter Kit
Connectors for tap and hose, add your own sprayer
Own it now, pay later
Product Video
See it in action! Watch a video featuring this product to learn more.
The Basic Starter Kit is great for use with caravans or if you already have a watering accessory (sprayer, sprinkler, etc.) with a threaded inlet you would like to use.
Built tough for Aussie conditions, you can count on Hoselink's hard wearing long lasting hose fittings to NEVER burst off!
Fitting any size Australian tap and standard size garden hose (12mm), these innovative hose fittings provide a 100% watertight connection every time.
The Basic Starter Kit includes:
Universal Tap Connector x1
Hose End Connector x2
Accessory Connector x1
Thanks to the ergonomically designed 'point and twist' connection they are easy to use for any age, including for those with arthritis.
To keep things as simple and user friendly as possible, the face of each fitting is identical. This means each part of the Hoselink Hose Fitting system is completely interchangeable. You can connect your tap to hose, hose to accessory, and hose to another hose without using additional parts. Now isn't that easy.
For fitting instructions click here
Purchase Hoselink Hose Fittings and join thousands of Australians enjoying a better watering experience. Our hose fittings are covered by a 3 year warranty and if you aren't satisfied with your purchase within 30 days we'll happily give you your money back.
See more Hoses & Fittings.
No-burst guarantee
Hard wearing, long lasting
3 year warranty
What's Included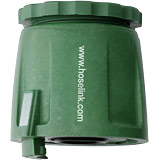 Universal Tap Connector
Screws onto any size Australian tap for a watertight seal between your tap and hose.
Accessory Connector
Securely connects your hose to your trigger nozzle in a watertight seal that won't leak or burst off. Screws directly into the thread of your trigger nozzle.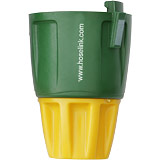 Hose End Connector x 2
Clamps onto your standard size garden hose (12mm) in a secure connection guaranteed to never burst off.
Product Specifications
| | |
| --- | --- |
| Model Name | Basic Starter Kit |
| Model Number | 2260 |
| Material | Connectors (nylon), Split ring (plastic), O-Ring (rubber) |
| Colour | Green and yellow |
| Hose Fitting Size | 12mm |
| Tap Thread Fitting Size | 25mm (1") and 20mm (¾") with included reducer |
| Maximum Pressure | 550psi |
| UV Resistant | Yes |
| Assembly Required | Yes |
| Warranty | 3 years |
What's Included
1 x Universal Tap Connector
1 x Reducer
2 x Hose End Connector
1 x Accessory Connector
2 x White Split Ring
3 x  O-Rings
Fitting Instructions
Latest Hoselink Catalogue
Reviews
Customer Reviews
Filter Reviews:
thing
hose
products
Fittings
hoses
water
property
accessories
connections
fact
06/12/2019
JOHN J.
Australia
I recommend this product
Basic Starter Kit
very good it does exactly what its supposed to do
01/12/2019
Sue L.
Australia
I recommend this product
Basic Starter Kit
Excellent product, allow us to use our old sprinkle with strong connections Fast, no hassle ordering and delivery
28/11/2019
Lee J.
Australia
I recommend this product
Hoselink Starter Kit
Fantastic !! I was dubious at the start in buying a dearer hose kit, hoses and accessories. That turned out to be the best thing I ever did !! I was over hoses and fittings bursting in heat here in QLD, hoses kinking and loosing precious water through leakages. These products are perfect, so much in fact that I came back for more. Added bonus was being able to pay over time with Zip.
22/11/2019
Col M.
Australia
I recommend this product
Basic starter kit
Excellent my whole property is now hose linked, can't speak highly enough of these products
18/11/2019
Helena V.
Australia
Basic Starter Kit
Best products on the market so easy to use look great and so efficient in there performance can not fault anything from ordering to delivery to using
15/11/2019
Gae B.
Australia
Excellent product
Hoselink is an excellent system. It is easy to use and the fittings never just "pop" apart. I am happy to recommend it
14/11/2019
Mr. Jean Colomiere
Australia
Value for money .
Never had attachments without leaks before . since I bought Hoselink , I do not have those problems at all , not a single leak , excellent products , will recommend to all my friends and family . very satisfied .
09/11/2019
Jenny R.
Australia
.?
Always very helpful. Polite staff. Top products, and if any problems, product was replaced.
07/11/2019
David P.
Australia
Basic Starter Kit great Value
I purchased the Heselink basic starter kit on line because I thought it was good value. Similar set ups at hardware outlets were of similar price, however appeared significantly inferior in quality. And from past experience, they just don't last and continually cause frustration because of bursting off the hose or constant leaking. I already had a couple of Hoselink products that were given to me as gifts from family and was happy with the products. So I decided to purchase the basic kit for one of my hoses. Was easy to fit to my existing hose and have no wated a single drop of water from that hose since. Very happy. I thought was good value and bonus with three spare "O" rings is very handy. I will buy additional Hoselink products as my older hoses deteriate so I have all three outside taps interchangeable. I recommend this product.
05/11/2019
Claire K.
Australia