Basic Starter Set 12mm
Connectors for tap and hose, add your own sprayer
Next available shipment due in
The Basic Starter Kit is great for use with caravans or if you already have a watering accessory (sprayer, sprinkler, etc.) with a threaded inlet you would like to use.
Built tough for Aussie conditions, you can count on Hoselink's hard wearing long lasting hose fittings to NEVER burst off!
Fitting any size Australian tap and standard size garden hose (12mm), these innovative hose fittings provide a 100% watertight connection every time.
The Basic Starter Kit includes:
Universal Tap Connector x1
Hose End Connector x2
Accessory Connector x1
Thanks to the ergonomically designed 'point and twist' connection they are easy to use for any age, including for those with arthritis.
To keep things as simple and user friendly as possible, the face of each fitting is identical. This means each part of the Hoselink Hose Fitting system is completely interchangeable. You can connect your tap to hose, hose to accessory, and hose to another hose without using additional parts. Now isn't that easy.
For fitting instructions click here
Purchase Hoselink Hose Fittings and join thousands of Australians enjoying a better watering experience. Our hose fittings are covered by a 2 year warranty and if you aren't satisfied with your purchase within 30 days we'll happily give you your money back.
All Hoselink fittings are BPA and lead free
See more Hoselink Starter Kits.
No-burst guarantee
Hard wearing, long lasting
3 year warranty
What's Included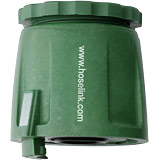 Universal Tap Connector
Screws onto any size Australian tap for a watertight seal between your tap and hose.
Accessory Connector
Securely connects your hose to your trigger nozzle in a watertight seal that won't leak or burst off. Screws directly into the thread of your trigger nozzle.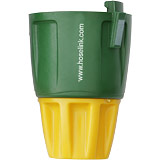 Hose End Connector x 2
Clamps onto your standard size garden hose (12mm) in a secure connection guaranteed to never burst off.
Product Specifications
| | |
| --- | --- |
| Model Name | Basic Starter Kit |
| Model Number | 2260 |
| Material | Connectors (nylon), Split ring (plastic), O-Ring (rubber) |
| Colour | Green and yellow |
| Hose Fitting Size | 12mm |
| Tap Thread Fitting Size | 25mm (1") and 20mm (¾") with included reducer |
| Maximum Pressure | 550psi |
| UV Resistant | Yes |
| Assembly Required | Yes |
| Warranty | 2 years |
What's Included
1 x Universal Tap Connector
1 x Reducer
2 x Hose End Connector
1 x Accessory Connector
2 x White Split Ring
3 x O-Rings
Fitting Instructions
Latest Hoselink Catalogue