Basic Starter Kit
Connectors for tap and hose, add your own sprayer
Own it now, pay later
Product Video
See it in action! Watch a video featuring this product to learn more.
The Basic Starter Kit is great for use with caravans or if you already have a watering accessory (sprayer, sprinkler, etc.) with a threaded inlet you would like to use.
Built tough for Aussie conditions, you can count on Hoselink's hard wearing long lasting hose fittings to NEVER burst off!
Fitting any size Australian tap and standard size garden hose (12mm), these innovative hose fittings provide a 100% watertight connection every time.
The Basic Starter Kit includes:
Universal Tap Connector x1
Hose End Connector x2
Accessory Connector x1
Thanks to the ergonomically designed 'point and twist' connection they are easy to use for any age, including for those with arthritis.
To keep things as simple and user friendly as possible, the face of each fitting is identical. This means each part of the Hoselink Hose Fitting system is completely interchangeable. You can connect your tap to hose, hose to accessory, and hose to another hose without using additional parts. Now isn't that easy.
For fitting instructions click here
Purchase Hoselink Hose Fittings and join thousands of Australians enjoying a better watering experience. Our hose fittings are covered by a 3 year warranty and if you aren't satisfied with your purchase within 30 days we'll happily give you your money back.
See more Hoses & Fittings.
No-burst guarantee
Hard wearing, long lasting
3 year warranty
What's Included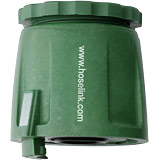 Universal Tap Connector
Screws onto any size Australian tap for a watertight seal between your tap and hose.
Accessory Connector
Securely connects your hose to your trigger nozzle in a watertight seal that won't leak or burst off. Screws directly into the thread of your trigger nozzle.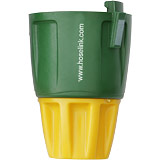 Hose End Connector x 2
Clamps onto your standard size garden hose (12mm) in a secure connection guaranteed to never burst off.
Product Specifications
| | |
| --- | --- |
| Model Name | Basic Starter Kit |
| Model Number | 2260 |
| Material | Connectors (nylon), Split ring (plastic), O-Ring (rubber) |
| Colour | Green and yellow |
| Hose Fitting Size | 12mm |
| Tap Thread Fitting Size | 25mm (1") and 20mm (¾") with included reducer |
| Maximum Pressure | 550psi |
| UV Resistant | Yes |
| Assembly Required | Yes |
| Warranty | 3 years |
What's Included
1 x Universal Tap Connector
1 x Reducer
2 x Hose End Connector
1 x Accessory Connector
2 x White Split Ring
3 x  O-Rings
Fitting Instructions
Latest Hoselink Catalogue
Reviews
Customer Reviews
Filter Reviews:
experience
products
taps
quality
home
starter kit
service
delivery
Fittings
hoses
19/10/2019
Paul S.
Australia
I recommend this product
There's a Reason Why I keep coming back
I am always "blown away" about the quality of these products and that is the reason I bought it for my brother's birthday gift.
15/10/2019
Robert P.
Australia
I recommend this product
Quality service
No issues what so ever! The order was easy, delivery expedient and product just as I had expected
10/10/2019
Jane G.
Australia
I recommend this product
Better late than never!
I have been wanting to change over my hoses and fittings to Hoselink for years, but I thought I wouldn't have enough money but after ANOTHER exploding tap fitting I decided to bite the bullet and do it! And wouldn't you know it? It wasn't nearly as expensive as I'd expected, and sooo worth the price anyway that I was ****** to wait so long. The whole system is perfect, no more tangled hoses, and certainly no exploding or leaking taps/hoses. I am delighted to say that I have made the swap and need never go back.
22/09/2019
Maureen S.
Australia
I recommend this product
Fabulous reliable product
I have been using hoselink products for 6 years now and find the fittings to be fantastic. No leaking or bursting off the taps. Love it.
18/09/2019
Paul Y.
Australia
I recommend this product
Don't come apart when moving joined hoses
Best bit is they don't come apart when joining hose lengths together just from dragging the the joint on the ground behind you as they are a twist and not a pull back action to separate them.
15/09/2019
Simon R.
Australia
I recommend this product
HoseLink
Very happy with product does as promoted.. Easy ordering and prompt deliver
07/09/2019
Glendon A.
Australia
I recommend this product
Sick of dodgy fittings
So far completely happy , fittings were easy to fit to existing hoses & equipment ,as we live on tank water & recently had some blow outs & lost water .in these dry times we can't afford to lose a drop & this was the deciding factor to upgrade to your products . Very happy with the range & will be expanding to replace all fittings in the near future,Happy customers Glendon & cecelia
07/09/2019
Ernest O.
Australia
I recommend this product
Purchase of product
Our experience has been that great that we will be purchasing hose kits for both our son and son in law for Christmas. I feel that explains your products in a nutshell
06/09/2019
Brad M.
Australia
I recommend this product
Great product. Use these every day
Extremely fast postage. Great product. We use this every day for work. Cops a hammering daily and is always so reliable. Great job guys.
28/08/2019
Michael J.
Australia
I recommend this product
No Leaks, No Worries
Great product, especially when using high pressure attachments. Not one drip escaped these connectors!