Basic Starter Kit
Connectors for tap and hose, add your own sprayer
Own it now, pay later
Product Video
See it in action! Watch a video featuring this product to learn more.
The Basic Starter Kit is great for use with caravans or if you already have a watering accessory (sprayer, sprinkler, etc.) with a threaded inlet you would like to use.
Built tough for Aussie conditions, you can count on Hoselink's hard wearing long lasting hose fittings to NEVER burst off!
Fitting any size Australian tap and standard size garden hose (12mm), these innovative hose fittings provide a 100% watertight connection every time.
The Basic Starter Kit includes:
Universal Tap Connector x1
Hose End Connector x2
Accessory Connector x1
Thanks to the ergonomically designed 'point and twist' connection they are easy to use for any age, including for those with arthritis.
To keep things as simple and user friendly as possible, the face of each fitting is identical. This means each part of the Hoselink Hose Fitting system is completely interchangeable. You can connect your tap to hose, hose to accessory, and hose to another hose without using additional parts. Now isn't that easy.
For fitting instructions click here
Purchase Hoselink Hose Fittings and join thousands of Australians enjoying a better watering experience. Our hose fittings are covered by a 3 year warranty and if you aren't satisfied with your purchase within 30 days we'll happily give you your money back.
No-burst guarantee
Hard wearing, long lasting
3 year warranty
What's Included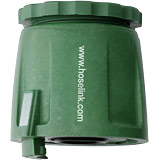 Universal Tap Connector
Screws onto any size Australian tap for a watertight seal between your tap and hose.
Accessory Connector
Securely connects your hose to your trigger nozzle in a watertight seal that won't leak or burst off. Screws directly into the thread of your trigger nozzle.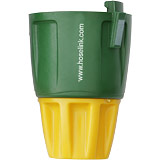 Hose End Connector x 2
Clamps onto your standard size garden hose (12mm) in a secure connection guaranteed to never burst off.
Product Specifications
| | |
| --- | --- |
| Model Name | Basic Starter Kit |
| Model Number | 2260 |
| Material | Connectors (nylon), Split ring (plastic), O-Ring (rubber) |
| Colour | Green and yellow |
| Hose Fitting Size | 12mm |
| Tap Thread Fitting Size | 25mm (1") and 20mm (¾") with included reducer |
| Maximum Pressure | 550psi |
| UV Resistant | Yes |
| Assembly Required | Yes |
| Warranty | 3 years |
What's Included
1 x Universal Tap Connector
1 x Reducer
2 x Hose End Connector
1 x Accessory Connector
2 x White Split Ring
3 x  O-Rings
Fitting Instructions
Latest Hoselink Catalogue
Reviews
Customer Reviews
Hoselink
products
design
home
starter kit
service
delivery
caravan hose
Fittings
company
20/08/2019
Mark F.
Australia
I recommend this product
Hose link
Made the mistake of buying a pope rewinding hose reel for the other side of the house.It broke after about 5 uses.My hoselink rewinding gets heaps of use and has never missed a beat. Great product
12/08/2019
shaun o.
Australia
I recommend this product
did the job
looks and works great ,, did the job on my caravan water intake and filter with ease :)
11/08/2019
Deb D.
Australia
I recommend this product
No Brainer
Very easy to use, solid and strong
02/08/2019
Gary W.
Australia
I recommend this product
Great Product
All hoses should have these fittings. I'm VERY Happy with the design and use.
28/07/2019
David L.
Australia
I recommend this product
More Hoselink purchases were
Very good products to use, as always. A super company to deal with, with good service and prompt delivery
14/07/2019
George S.
Australia
I recommend this product
Great service!
Bought Hoselink originally for home. I was so impressed I have now just purchased a starter kit to convert the caravan hose. Great service and prompt delivery.
Basic starter kit
Excellent product, easy to attach to the hose and the best part, no leaks or bursting apart. Very happy with the product.
02/05/2019
Sharon Forsyth
Great quality
I also got these for my partner as a gift and he said they are awesome, they hold onto the hose very well and connect great, will be great to see in 6 months time how they are and see if there is no leaking.
Best hose connectors I have ever used
I changed all our hose fittings to hoselink 2 weeks ago and they are great. Very easy too fit and no drips whatsoever which means no water wastage.
07/04/2019
Sharman Lugton
Basic Stater Kit
Attached to tap & works well. Will purchase more in due course. Problematic re attaching a non Hoselink hand spray. Some fit well, no leaks, others do leak. So think they are really for Hoselink hand sprays.