Black Friday is among us, and there are sales everywhere! It's the perfect time to shop for yourself, a loved one or a friend. This year, we decided to make it nice and easy for you to shop online at Hoselink with a buyer's guide. For all your Black Friday shopping needs, including the stuff you didn't know you needed. This year, we are offering 10% off sitewide!!! Before you ask, yes, that includes our famous Retractable Hose Reels! 
Retractable Hose Reel
If you've had your eye on a Hoselink Retractable Hose Reel, now is the perfect time to strike while the iron is hot! With two colours to choose from and three different lengths, our reels will suit any home. If you're after one for a loved one, you can purchase confidently, knowing they will love their new watering solution. Try the Water Wise Starter Set if you're still not convinced or know someone who wants to convert their existing hose with Hoselink fittings. This set comes included with a Universal Tap Connector, two Hose End Connectors (one with a flow control leaver) and an Accessory Connector. Hoselink fittings are not only verified by Smart Approved WaterMark, but are an absolute game changer when it comes to watering. Don't wait, put them to the test whilst they're on sale! 
Stand-up Weed Puller 
It's the tool you didn't know you needed! Hoselink's Stand-up Weed Puller makes removing weeds a breeze. Its ergonomic design makes it perfect for anyone and even a little fun. As we all know, weeds are worse than ever in the Summertime, and the best way to get rid of them for good is to pull them right from the source and stop them in their tracks from spreading any further. 
Hose & Hanger Pack - Limited Edition 
In exciting news, one of our favourite products has arrived in an exclusive limited edition Sage Green colour! 
Check out Hoselink's Hose and Hanger pack. It's got everything you need for a stylish and convenient watering experience. The hanger is equipped to hold your Superflex Hose conveniently, allowing it to stay neatly coiled up and ready for use. The sprayer included with this limited edition set is a new and improved version of the Comfort 8-Pattern you know and love. We took on your feedback and redesigned this customer favourite to have a shorter handler, a sturdier face and a leaver that glided more smoothly. What's not to love? This product is a perfect choice for the one in your life who loves a pop of colour without compromising function. Get in quick - only available while stocks last! 
Pop Up Heavy Duty Garden Waste Bag 
Another new product on the block at Hoselink is the Pop Up Heavy Duty Garden Waste Bag! As we move closer and closer to the silly season and New Year, many of us are socialising, hosting and entertaining more, offering the perfect excuse to clean up the garden! This Garden Waste bag is ideal for collecting and transporting waste around the garden. It is built to last with robust stainless steel springs; it's the perfect companion. Standing effortlessly on its own, you can say goodbye to flimsy garden waste bags that tip over easily. When not using it, collapse it and clip it up quickly, making it great for storing away.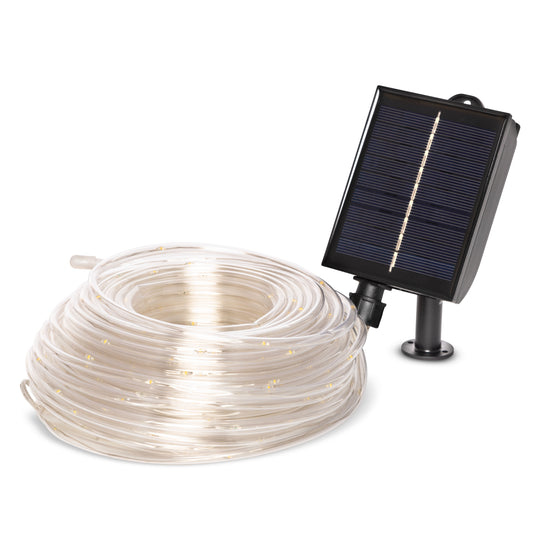 Heavy Duty Secateurs 
Hoselink Secateurs are the perfect never-fail purchase for anyone! Available in two fresh new colours, these secateurs are ergonomically designed and easy to use. Use them for pruning or harvesting, they'll cut through like butter! Whether you're shopping for someone new to gardening or a seasoned pro, there is no doubt they will be stoked with this gift. 
Solar LED PVC Rope Light
In the solar light space, there are some new ones on the block! Starting with the Solar LED PVC Rope Light. This light is an excellent multi-purpose light that can be displayed in a few different ways. Offering 30 metres in length, you can run it along your patio or balcony or wrap it around a tree; with the festive season just around the corner, these lights are perfect for adding more ambient lighting to your outdoor space. Not to mention, they have eight different lighting modes: 
Cycle through all modes

Twinkle

Pulsating Light

Fading Pulse

Quick Pulse

Slow Flash

Quick Flash

Constant Light
As a bonus, you can charge the panel separately without moving your light! If the weather becomes rainy or overcast for several consecutive days, you can also charge the solar panel with the micro USB port on the back. 
Solar Sphere Light 
Now available in three different sizes: 20, 25 and 30 centimetres. These solar lights are the perfect purchase for Black Friday Sales. These lights suit almost any outdoor area, including in the pool! They have several colour options and a remote control for easy operation. These lights also have four different lighting modes: flash, strobe, fade and smooth. Try all three size options for a head-turning display, set them to the colour scheme you desire, and select from one of the four lighting modes. The possibilities are endless! 
Solar Tiki Torch Lights
We couldn't talk about Solar Lights without showing off another recent addition: Solar Tiki Torch Lights! 
These have quickly become a popular choice for solar light shoppers. The tiki lights emit a realistic flickering flame light from an LED candle within the eyectaching cut out pattern. Whether they're switched on or off, these lights will compliment your garden brilliantly. Bring the tropical holiday home with these lights.
Slate Plant Labels & Marker Pen 
For the DIY'er or the overly competitive gardener in your life, the Slate Plant Labels and Marker Pen Bundle are the perfect gift. These sturdy labels can help you to remember what you've planted and where or give instructions on how often to water. The writing from the marker pen won't come off in the rain, but if you need to remove it, apply some methylated spirits and wipe it off. 
There you have it! Now you hopefully feel equipped and organised to get your cart ready for Black Friday Sales. Happy Shopping!