Easy Tap Turner
Makes it easy to turn the tap on and off
Own it now, pay later
Product Video
See it in action! Watch a video featuring this product to learn more.
If you've ever struggled to turn your garden tap, then install the Easy Tap Turner to make it easy!
Fits any standard t-shaped tap top and provides extra leverage to lessen the strain and make watering enjoyable again.  The handle pivots so even if the tap is close to the wall, you can flip the handle to start the turn cycle again.
This product has been specially designed by the Hoselink team to help those with weak or arthritic hands.
*Tap shown in image is for illustration purposes only.
See more Tap Adapters.
What's Included
3 part Tap Turner
Assemby and usage instructions
Q. Can I remove the Easy Tap Turner if I need to?
A. Yes, it is easily installed or removed whenever you need to.
Reviews
Customer Reviews
Filter Reviews:
Hoselink
garden
nozzle
taps
people
trouble
wall
Tap Turner
handle
hands
03/11/2019
Christina P.
Australia
Easy Tap Turner
LOVE LOVE THIS PRODUCT
02/11/2019
Rita E.
Australia
Good for wrists and hands
Easy to use and makes it so much easier on my wrists and hands
02/11/2019
anne m.
Australia
EASY TAP TURNER
I,m a pensioner who could not turn the garden taps on & off but since i fitted the easy tap turner made it all so easy. Thank you
12/10/2019
Greg H.
Australia
Easy Tap Turner
This tap turner does the job well, it was easy to fit and fits securely to the tap. A great feature is that the handle can be turned over so as to avoid the wall when using it. Overall a great product, that has been thought through when designed. Regards Greg
04/10/2019
Natalie E.
Australia
Great new product.
Is so much easier to use with wet hands, its not as cold to touch and its not an eye sore to look at.
20/09/2019
Michelle O.
Australia
Easy Tap Turner
Great service and very useful product. Do you have an easy to use nozzle?
03/09/2019
Anonymous
Australia
Not At All Easy.
I purchased the Easy Tap Turner for the same reason as most people. I have trouble with my hands. The handle is too long for the position of my tap. With every turn I have to lift the handle part as it won't fit past the brick wall of my house where it is positioned. As a result of this, and my problem hands, it becomes an ordeal just to turn the tap on. It goes like this, turn a bit, lift the handle, turn a bit more, lift the handle. Well you get the idea. Not easy!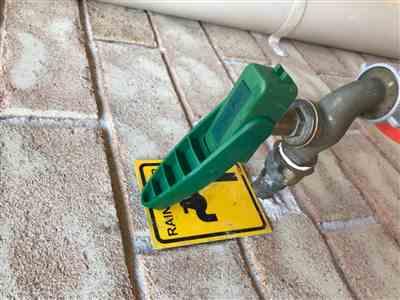 Hi Julie, Thanks for your review and it's disappointing to hear this hasn't helped with your needs. We did design the Easy Tap Turner to have a bulkier handle to allow for an easier grip for customers like yourself who struggle with their hands. If you start at the right hand side and swivel as far to the left and then lift back over to the right, it should only take a couple of turns for the tap to be on. Having said that we do obviously want to sort this out as you're not happy with your purchase so please feel free to get in touch with our team on 1300 900 617 or by emailing hoselink@hoselink.com.au. Kind Regards, The Hoselink Team
28/08/2019
Phillip D.
Australia
Easy Tap Turner
Easy to fit and very good for it's intended use.
20/08/2019
Susan W.
Australia
Easy
Easy tap turner does as the name suggests. Has made it so much easier for me to turn the garden tap on and off. I don't need to use two hands anymore!
19/08/2019
Daniel O.
Australia
Easy Tap Turner
Great to grip for easy turning Easy to install