As the silly season approaches, the quest for the perfect Christmas gift begins. In this guide, we've curated a selection of unique and practical presents, each designed to make life a little brighter, whether in the garden or at home. From innovative outdoor lighting to thoughtful gardening tools, we've got a range of brilliant gifts for seasoned and novice gardeners to aid them in every outdoor project.  
While this may seem like an obvious mention, why not give your loved one the gift of an accessible home watering experience during this hot, dry summer? Hoselink Retractable Hose Reels are available in 20m, 30m and Hi-Flow 25m, meaning they can suit homes of all different shapes and sizes. These are also available in charcoal or beige colourways, complementing most colour schemes. With a 'stop-anywhere' locking system, Hoselink Retractable Hose Reels will offer convenience and automatic retraction, helping you avoid kinks and tangles. Treat a loved one to five-star watering this Christmas and help them keep their garden green without wasting water!   
For those scorching summer days when your garden is thirsting for a drink, consider the gift of an Oscillating Sprinkler. With Hoselink's Oscillating Sprinkler, you can turn your loved one's garden into a lush oasis. The Oscillating Sprinkler helps evenly and efficiently water a large area. The adjustable width and flow control allow for customisation, ensuring every corner of the garden receives the hydration it deserves. A thoughtful gift that will guarantee a flourishing garden throughout the hottest of summers.  
If you're looking for a thoughtful gift that can instantly transform an outdoor space into a secure and welcoming retreat, you can't go past Hoselink's newest addition: the Stainless Steel Solar Bollard. This sleek and contemporary garden enhancement adds a touch of sophistication and a layer of security to their home. It's powered by solar energy, so it charges during the day and automatically switches on its warm and inviting light come night. It has an in-built motion sensor, making sure it lights up when necessary, acting as a guide for guests and a deterrent for unwanted visitors. Made from durable stainless steel, this gift is built to withstand the elements and will remain a timeless addition to their outdoor haven.   
Looking for a gift for that stylish someone in your life who seems to have everything? Look no further! This exclusive set is available for a limited time only! The enchanting sage green hue will add an elegant touch to their outdoor space, beautifully complementing their garden's natural landscape. Engineered for both durability and ease of use, the hose boasts no-burst fittings and a kink-resistant design, ensuring hassle-free watering, as well as a matching hanger for effortless storage. Don't hesitate, as this limited-edition set is a unique find unlikely to stick around for long.   
Another newbie to Hoselink's Solar Light collection and popular gift is the Solar Rope Light. The warm white glow emitted by these LED lights creates a cozy, welcoming environment, making it ideal for parties or simply relaxing outdoors. With eight lighting modes to choose from and the convenience of easy installation without the need for an electrician or mains power, this gift is suitable for those with large backyards, patios, or balconies. Be careful; you'll want to keep this one for yourself!  
It's no surprise the Hoselink Stand-Up Weed Puller is a best seller; it makes even the dullest job (weed pulling) oddly satisfying! It has been ergonomically designed to avoid bending over too far and damaging your knees or back. This gift is perfect for anyone with a lawn and will absolutely be well-loved and used in any home!   
This 2-pack of contemporary wall lights doesn't just add sophistication; it's also a practical lighting solution for their home. With four warm white LEDs in each unit, these solar-powered wall lights offer an inviting glow. Their unique up-and-down design serves both modern and functional, and they're effortless to install, with no complex wiring needed. Whether your loved one wants to accentuate architectural features or light up pathways, these wall lights are a perfect addition to any outdoor area, seamlessly combining style and utility.  
This handy all-purpose garden tool does far more than simply cutting. Beautifully presented with a leather-look protective sleeve, the knife has a pointed tip to help penetrate hard soil, a serrated edge perfect for opening plastic bags and slicing through weed roots, an engraved depth gauge ideal for measuring how deep to sow your seeds and bulbs, plus a curved shape for easy digging. Functional, lightweight, and durable, the multipurpose Garden Knife has a contoured handle with a textured non-slip finish to give you a firm grip for safe use.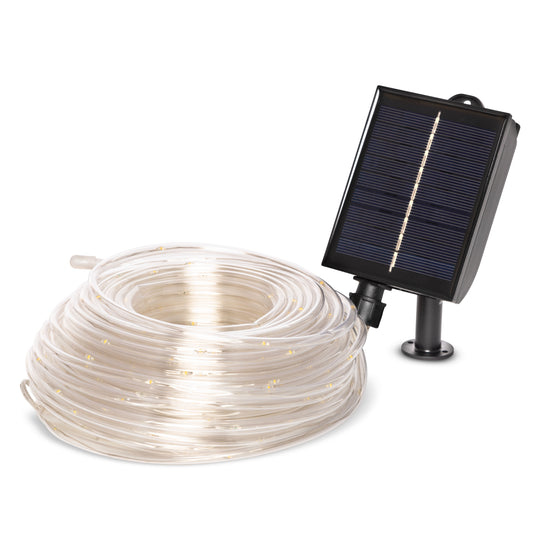 If you have an orchard, lots of trees or any large, demanding branches in the garden, then we recommend our Pruning Saw to tackle tree limbs with ease. Perfect for cutting through sticky sap-laden branches and many other tough pruning jobs, the saw will continue to cut through with its sharp, low-stick teeth and a high-quality blade made from ultra-sharp carbon steel. Its curved rubber grip handle allows for two-hand use to give you complete control when sawing, and the blade conveniently folds into the handle for safe storage when not in use. To learn more about pruning with this saw, watch this video with our Resident Horticulturist Ben Hayman: The Secret to Using a Pruning Saw with Ben Hayman | How-to Garden Series | Episode 6.   
Protect your joints as you garden with these convenient and functional Knee Pads. The lightweight, hard-wearing knee pads are fully adjustable to give the perfect fit, with two Velcro Straps that fasten behind the knee. Ideal for comfort on the go, the pads are designed to be both strong and stretchy, made from soft, water-resistant neoprene that moulds to your knees to protect them from injury or inflammation as you plant, mulch and prune.   
All the essential hand tools for one great price, this classic Trowel, Fork, and weeder Set is perfect for digging, potting, planting, cultivating and weeding. Every gardener should have these durable tools featuring stainless steel ends and ergonomically designed soft rubber handles for added comfort and grip. The Trowel is ideal for digging through soil and planting seeds; the Fork makes quick work of cultivating the soil and lifting weeds, whilst the Weeder is designed to uproot weeds in one swift action using its pointed split-tip fork end also suitable for scraping out unwanted plants from in between pavers. Tools are also available to buy separately.   
Once you've got the plants, you'll need to keep up the maintenance. With Hoselink's Guillotine Lopper, you can cut through branches big and small using its Teflon-coated high-carbon steel blade. Cutting quickly and cleanly through branches up to 45mm thick, this specialty tool features aluminium handles and a steel head designed to hook over branches to help steady them before cutting. 
Your garden can't grow without water, and if you've chosen to plant a veggie patch or live in a particularly scorching part of Australia, it's well worth picking up a Weeper Hose to meet your garden's needs. This clever hose seeps out water instead of spraying it, allowing the water to be soaked up by the soil instantly from the source, avoiding water wastage and helping to prevent evaporation during hot summers. Made from nylon, the hose is best used with low water pressure and can be positioned in a straight line or gentle curve above ground or buried under a thin layer of mulch. The Weeper Hose comes in a choice of 7.5m or 15m lengths that can also be quickly joined together - no extra fittings required!   
Brighten up your garden toolbox with these vibrant secateurs. Ideal for pruning, trimming, and cutting all manner of plants, shrubs and small trees, you can easily prune using the sharp Japanese steel blade suitable for even heavy-duty cutting jobs. Featuring a non-slip grip, these secateurs are reliable and lightweight, with an ergonomically designed handle to alleviate the strain on your hands. They even feature a safety lock for storage.  
Secret Santa Gift Ideas - Under $25 
The Crackle Glass Jar Solar Light is a beautiful gift that will light up your Secret Santa... literally! This one will be a crowd favourite at Kris Kringle this year. The light looks great hung up or set on a table and has a unique, eye-catching design for decorating and illuminating any outdoor space.   
Whether your gift receiver has indoor or outdoor plants, they are going to be appreciative of some Plant Health Seaweed Tonic. Not only is it organic, but it's perfect for resurrecting a sick plant or keeping existing ones in great shape. Want to win the unspoken competition between family members for the best gift? Pair it with Hoselink's Indoor Watering Can (thank us later).   
Hoselink's Handy Snippers are a perfect Secret Santa gift for the silly season this year. If you know someone with indoor or outdoor plants, then these, as the name suggests, are super handy! They are small but significant in cutting power, ideal for snipping herbs and flowers.   
Hoselink's Planter Bags are a gift you can't go wrong with! Available in three different sizes, these are perfect for planting, collecting debris, or temporarily storing plants while you move home or search for the perfect pot. These are cost-effective and make a great Secret Santa gift.   
Soft, breathable, eco-friendly and lightweight, these Bamboo Garden Gloves promise comfort whilst protecting your hands as you work in the yard. Elasticated around the wrist to keep out debris, the seamless gloves are latex dipped underneath for extra grip as you garden. The gloves come in small, medium, and large sizes. They also make an excellent stocking stuffer! 
Get organised in the garden with these beautiful Slate Plant Labels designed to help you quickly identify plants and edibles as they grow in your garden beds and pots. Write your choice of plant, herb, fruit or veg names with our Silver Marker Pen for the perfect finish, available separately or in a discounted bundle. With individually cut edges and a rustic finish, the weatherproof black labels come in a pack of five and can be wiped clean with methylated spirits for use again and again.