Solar Garden Dual Head Spotlight
Limited sunlight? Here's your solution!
Own it now, pay later
They say two heads are better than one and it certainly is true for this product! This product features a solar panel separate to the two solar garden spotlights, allowing the panel to be placed to receive optimum sunlight. The spotlights themselves can then be used in any light situation, dim, sunny or otherwise, to perfectly illuminate feature planting or outdoor areas.
Lighting modes:
Bright light - 100% brightness from dusk until dawn.

Medium light - 50% brightness, works as an energy saver mode.

If there is limited sunshine, keeping the light on this setting to last longer.
This model includes a battery protection feature. When charge is low, the light automatically turns off to prolong battery life. To reactivate the light, press and hold the on/off button for 3 seconds.
Installation is easy using either the supplied ground spikes for use in the garden, or screws for mounting to a wall or fence.
The Solar Garden Dual Head Spotlight is powered by a solar powered lithium-ion rechargeable battery.
Each light comes with 3 metres of cable to attach back to the solar panel enabling you to get light wherever required.
This pack includes 2 lights.
See more Solar Garden Lighting.
Product Specifications
| | |
| --- | --- |
| Materials | ABS + PC |
| Solar Panel Size | 90mm x 150mm |
| Solar Panel | 5V / 1.6W |
| Light Colour | Warm White |
| LED Lumens | 60 |
| | 2000mAh / 3.7V |
What's Included
1 x Solar Garden Dual Head Spotlight (total of two lights)
2 x Installation Screws
2 x Wall Plugs
1 x User Manual
1 x Latest Hoselink Catalogue
Warranty
| | |
| --- | --- |
| Model Name | Solar Garden Dual Head 6LED Spotlight |
| Model Number | L320 |
| Weight | 2.5kg |
| Colour | Black and silver |
| UV Resistant | Yes |
| Assembly Required | Yes |
| Drill Size Needed | 6mm (masonry) and 3mm (timber) |
| Warranty | 12 months |
Q. What kind of battery is included?
A. Built-in 3.7V 2200mAh rechargeable Li-ion Battery
Q. How long does it take for the light to be fully charged?
A. 6 - 8 hours in full sunlight.
Q. Are they multiple settings with this solar light?
A. Yes there are 2 light modes.
1) Bright Light - will come on at night and last around 3hours.
2) Low Light - will come on at night and last around 15hours.
Reviews
Customer Reviews
Write a Review
Ask a Question
Filter Reviews:
Hoselink
garden
quality
lights
light
solar lights
solar panel
ones
spotlights
18/03/2020
Scott T.
Australia
I recommend this product
High Quality Solar Lights
This in now my 3rd purchase from the Hoselink solar lights range and didn't disappoint. Once again the look and feel of the product is high quality and you can tell by the finishes they are made to last. I have the lights set on a palm in the garden outside our door and they look great. Quick tip.. press and hold the on butten for 3 seconds when you first use as it has a battery saving feature.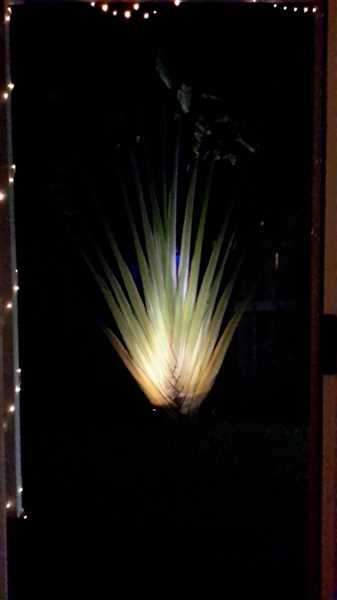 10/03/2020
Mick H.
Australia
I recommend this product
Every item
We have received quite a few items every one excellent cannot give praise to everyone of them.
04/03/2020
sandra O.
Australia
Lightning lasts all night
All solar lights from Hoselink are exceptional
05/02/2020
Janet S.
Australia
Says it like it is.
Always a pleasure
05/02/2020
john B.
Australia
Lights dont work
Please contact me to arrange a refund or replacement.
Hi John, Thanks for your review and sorry to hear this. This particular solar light does enter a low power mode if it hasn't been used. There is an on/off button which you need to hold down for around 5 seconds. This will activate the lights and then if you place them in direct sunlight they should be fine. Please let us know if you continue to have issues once having tried this. Kind Regards, The Hoselink Team
02/02/2020
Kim H.
Australia
Obviously straight from China and unchecked
One of the solar panels had the incorrect mounting pieces. While it is probably a 10 cent part it is still annoying when you get the incorrect parts. Cant be bothered chasing it up and all the rubbish that goes with it.
Hi Kim, It's really disappointing that part of the lights had the incorrect pieces. We really do want to get you sorted out with the correct parts so please do get in touch with our team either by email or by calling 1300 900 617 and we can sort this out. Kind Regards, The Hoselink Team
04/01/2020
Heather L.
Australia
Perfect addition
The spotlights are a perfect addition to our garden. Great quality too! Thank you Hoselink. :)
10/12/2019
Paul G.
Australia
Solar Dual Head Spotlight
Reasonable Quality... good sized separate solar panel which conveniently can be located in a sunny position .... in my case on a pergola .... spotlights have good strong beams.
08/12/2019
Jenny P.
Australia
Deer detering spot lights - dual heads
Just 100% effective & no more costs apart from buying the lights of course. These Solar lights are the answer to deterring deers from entering the garden & tip prunning everything at night ! Position the lights at 45 deg from each other facing deers entry point. Thanks a million Hoselink.
07/12/2019
Peter L.
Australia
Faulty
So far the lights haven't worked. They have been out in the sun for about a week and have not lit up. Not complaining by the way just hoping from my email this morning I can get them replaced.
Hi Peter, Thanks for your comments and sorry to hear this. This particular model of solar light can enter a low power saving mode. There should be a button on the solar panel which you can hold down for 5 seconds. This will activate the lights and then if you put them in the sun for a few hours it should work. Kind Regards, The Hoselink Team