Home Gardener Pack with Hose Reel
Retractable Reel + extra connectors & watering accessories Late January - No Pre-Orders
Next available shipment due in Late January - No Pre-Orders
Next available shipment due in
This bundle is ideal for a first home buyer or start-up gardener. The bundle includes Hoselink's bestselling Retractable Hose Reel with no-burst Hose Connectors, plus a 9-Pattern Sprinkler, Fertiliser Spray Mixer, and some additional essential hose fittings. This really is the complete all-in-one watering solution!
Price varies depending on the length of Hose Reel selected.

See more Retractable Hose Reels.
What's Included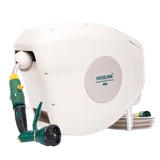 Retractable Hose Reel - choose your own length
The ultimate way to water with ease. The Retractable Hose Reel comes with everything you need to get started including a Wall Bracket, Screw Set, 2m Leader Hose, Premium 7-Function Spray Gun, and a full set of Hoselink no-burst Hose Connectors.
9-Pattern Sprinkler
Versatile and durable, this sprinkler is ideal for most average-sized yards. Simply turn the dial to change the spray pattern, which includes a variety of settings for almost any size and shape space.
Plant Health Seaweed Tonic Concentrate
Hoselink's Organic Plant Health Seaweed Tonic Concentrate is made from a combination of kelp seaweed and soluble potassium humate, which helps plants to grow more vigorously, enriches the soil and stimulates flowering and fruiting. Think of this tonic like paracetamol for your plants. You would use this product when your plants are looking wilted or distressed, as opposed to fertiliser, which is food for a healthy plant to help it grow.
Fertiliser Spray Mixer
Connect the Fertiliser Spray Mixer to your hose and quickly and conveniently dispense commercial fertiliser or weed spray on to your lawn or garden. The easy-to-use trigger spray is ideal for those who suffer from arthritis and are unable to use a pump-style bottle.
Click-on Adapter Set
Connect your Hoselink-fitted hose to your existing 'click-on' watering accessories. Simply screw the Accessory Connector into the Click-On Adapter to connect your hose and watering accessory. Please note, this fitting is not covered by the Hoselink no-burst guarantee.
Universal Tap Connector
Screws on to any size Australian garden tap for a watertight seal between your tap and hose. Can be used with accessories that have a male thread (e.g. pressure washers, caravans, boats).
Accessory Connector
Securely connects your hose to your watering accessory (e.g. spray gun, nozzle or sprinkler) with a watertight seal that won't leak or burst off. Screws directly on to the thread of your watering accessory or any outlet with a female (inner) thread.