Product Video
See it in action! Watch a video featuring this product to learn more.
Experience effortless watering with the Daintree Starter Kit. If you suffer from arthritis or simply require an easy to use spray gun, this is the kit for you.
Fitting any size Australian tap and standard size garden hose (12mm), Hoselink's innovative hose fittings provide a 100% watertight connection every time. Built tough for Aussie conditions, you can rely on Hoselink's hard wearing long lasting hose fittings to NEVER burst off!
Thanks to the ergonomically designed 'point and twist' connection, Hoselink fittings are easy to use for any age, including for those with arthritis. Additionally, the Flow Control Spray Nozzle featured in this Kit has been specifically designed for easy use. You have full control of the flow of water with a single thumb action and to adjust the force of the spray you simply twist the nozzle. Featuring a soft grip rubber handle, this durable spray gun is extremely comfortable to use.
To keep things as simple and user friendly as possible, the face of each fitting is identical. This means each part of your Hoselink fitting system is completely interchangeable. You can connect your tap to hose, hose to accessory, and hose to another hose without using additional parts. Now isn't that easy.
Learn how to connect Hoselink to your hose by watching the video here
Purchase Hoselink fittings and join thousands of Australians enjoying a better watering experience. Our hose fittings are covered by a 3 year Warranty and if you aren't satisfied with your purchase within 30 days we'll happily give you your money back.
What's Included
Flow Control Spray Nozzle
Durable, comfortable and easy to use spray gun. Turn the water flow on and off with the thumb control lever. Twist the nozzle head to adjust the water flow from strong jet through to a light fan spray.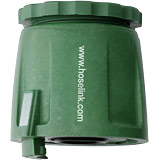 Universal Tap Connector
Screws onto any size Australian tap for a watertight seal between your tap and hose.
Accessory Connector
Securely connects your hose to your trigger nozzle in a watertight seal that won't leak or burst off. Screws directly into the thread of your trigger nozzle.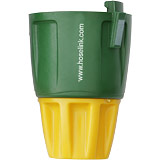 Hose End Connector x 2
Clamps onto your standard size garden hose (12mm) in a secure connection guaranteed to never burst off.
Product Specifications
| | |
| --- | --- |
| Model Name | Daintree Starter Kit |
| Model Number | 2252 |
| Material | Fittings (nylon), spray gun (brass, aluminium, rubber) |
| Colour | Green, yellow |
| Fitting Size | 12mm |
| Sprayer Weight | 342 grams |
| Maximum Pressure | 550psi |
| UV Resistant | Yes |
| Assembly Required | Yes |
What's Included
Tap Connector (x1)
Hose Connectors (x2)
Accessory Connector (x1)
Flow Control Spray Nozzle (x1)
Spare O-Rings (x3)
White Split Rings (x2)
Fitting Instructions
Warranty
| | |
| --- | --- |
| Tap Connector | 3 years |
| Hose Connector | 3 years |
| Accessory Connector | 3 years |
| Spray Gun with Flow Control | 12 months |
Q. Can I use Hoselink with my other watering accessories, pressure washers, etc.?
A. Yes, it can be done either with an adapter or by direct connection.  For more information, see this link: http://www.hoselink.com.au/view/Sprinkler-Accessory-Compa

Q. Will this kit fit my tap?
A. The included Tap Connector fits the 2 common tap sizes found in Australia, by way of use with or without the included size reducer.

Q. Can I use this kit with a recycled water tap?
A. Yes, simply purchase our Recycled Water Tap Converter (5748) and attach the starter kit as per normal.
Reviews
Customer Reviews
Hoselink
products
Everything
ease
standard
hands
flow
16/08/2019
Bev G.
Australia
I recommend this product
Once I be came more
Once I be came more familiar with it I love the ease with which I can adjust the flow. Wonderful for my arthritic hands!
31/07/2019
Alison C.
Australia
I recommend this product
Discover the Daintree
Second set already purchased. Slowly going to convert everything to Hoselink products. Easy, excellent standard and does exactly what it advertised!!!!
This is how it's done!!
My first experience with hoselink but definitely not the last. I can't say a bad word about it. The product is of the highest quality, the instructions well presented and super easy to follow, they even threw in 3 spare o-rings. From start to finish my transaction with hoselink has been a joy. They set the standard in customer service, well designed products that do exactly what they claim. I am looking forward to replacing all my hose fittings with Hoselink. By far the most superior hose fittings I have ever seen on the domestic market. I will never return to Bunnings again for hose fittings. Going to buy some for my brother and I'm telling all my friends to check 'em out. When in Bunnings recently I saw a guy looking at their range of hose fittings, I wanted to say to him forget this **** - just go to Hoselink' but I guess he'll learn the hard way. Hoselink you are the greatest in the industry.
23/03/2019
Patrick Hutchinson
Excellent
Great hose fittings. I am a landscaper so my hose gets a good work out. I was sick of fittings always bursting off. The hoselink fittings I bought can't be faulted. They are also priced well, cheaper than others you get from Bunnings and ten times the value.
Daintree starter kit
Best fittings I've ever purchased.
13/03/2019
Sharron Cairncross
Daintree Starter Kit
Finally a hose system that is completely leak free. Not a drop coming from any of the connections.
12/01/2019
robert k matthews
converted
i am now a hose link fan having brought some products including this and the hose reel i am going to get another reel for the front
Daintree starter kit
I bought a Daintree starter kit and was so pleased with the spray that I subsequently bought another for our second hose in May 2018. Shortly after receiving the second unit, the first spray began leaking at the nozzle. No worries I thought - just bad luck !. Today my husband is complaining that this one is now leaking also!.
15/12/2018
Valeria Conroy
Daintree Starter Kit
Excellent all purpose fitting - great water pressure
13/12/2018
Stephen Fardon
Excellent product
The Hoselink products are extremely good quality. we like that the water pressure seems to be much better with the fittings and best of all I like that I don't get soaked while hosing the garden.. Great product.. Also the service after placing an order was great. Thank you and we wish all the staff at Hoselink a Merry Christmas and a Happy New Year.....